British PM Cameron loses another seat
British Prime Minister David Cameron's Conservatives lost a second parliamentary seat to the anti-EU UK Independence Party (UKIP) yesterday, an embarrassing defeat that foreshadows a possible political upheaval in next year's national election.
With distrust of mainstream parties and anxiety about immigration rising, UKIP comfortably beat Cameron's party in a special election in the southeast English constituency of Rochester and Strood six months before what is shaping up to be a closely-fought national vote.
"Rochester and Strood was our 271st most winnable seat," Mark Reckless, UKIP's winning candidate, said after the results were announced. "If we can win here, we can win across the country."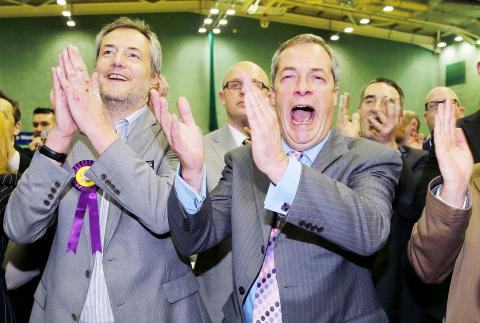 Nigel Farage, right, leader of the United Kingdom Independence Party, cheers as it is announced that party candidate Mark Reckless won the Rochester and Strood by-election at Medway Park in Gillingham, England, yesterday.
Photo: Reuters
Cameron's right-leaning Conservatives and the opposition left-wing Labour Party are facing simultaneous challenges from UKIP and Scottish nationalists that could revolutionize the two-party system in place since 1945.
The victory for UKIP, which favors an immediate British EU exit and sharply lower immigration, will unsettle businesses, investors and European partners, who fear Britain could be slipping toward an exit from the EU.
Comments by Reckless immediately after his win will do little to steady those nerves.
"If you believe that the world is bigger than Europe, if you believe in an independent Britain, then come with us and we will give you back your country," he said, to prolonged applause from supporters.
Reckless was a Conservative until he became the party's second parliamentarian to defect to UKIP in September, triggering Thursday's vote. His new party hopes his electoral success will spur other defections.
Reckless won 16,867 votes, or just over 42 percent of the vote, giving him a majority of 2,920, less than opinion polls of voter intentions had suggested, but still a comfortable win.
Cameron's Conservatives, who won the seat in 2010 with a majority of almost 10,000, came second with 13,947 votes, despite mobilizing all resources to try to hold the seat.
Labour, which on Thursday night found itself embroiled in an awkward scandal after one of its senior lawmakers was accused of sneering at working-class voters, came third with 6,713 votes.
The biggest loser from Thursday's vote was Cameron.
UKIP's success highlighted the threat it poses to him in a national election in May next year and its ability to split the Conservative vote.
Conservative Party Chairman Grant Shapps said his party was disappointed by the result, but he said the margin of UKIP's victory was not as resounding as some had predicted, giving his party a chance of winning it back in next year's national election.
Kelly Tolhurst, the losing Conservative candidate, said UKIP's success risked gifting victory to Labour next year.
"UKIP have taken seats from the Conservatives, but all that does is make sure that Labour is in office and what that will mean is... higher taxes, more borrowing, uncontrolled immigration and welfare," Tolhurst said.
The loss is a blow to Cameron's own authority after he ordered his party to "throw the kitchen sink" at the contest to try to hold Rochester and visited the area five times himself before Thursday's ballot.
Cameron's main rivals Labour have their own problems, with polls showing they may be wiped out next year in Scotland, a stronghold for generations, where the separatist Scottish National Party has surged, despite losing a pro-independence referendum in September.
Comments will be moderated. Keep comments relevant to the article. Remarks containing abusive and obscene language, personal attacks of any kind or promotion will be removed and the user banned. Final decision will be at the discretion of the Taipei Times.