Japan PM dissolves lower house for snap elections
ABENOMICS: While Abe called it a referendum on his decision to postpone another sales tax rise, many see it as an attempt to consolidate his power within the party
Japan's lower parliamentary chamber was dissolved yesterday in readiness for a general election next month, as Japanese Prime Minister Shinzo Abe moves to consolidate his grip on power and reinvigorate a faltering economic growth drive.
Following the dissolution, the Cabinet confirmed the election will be held on the Sunday of Dec. 14, Japanese Chief Cabinet Secretary Yoshihide Suga said.
"Finally, the fight will begin," Abe told fellow politicians who cheered in response to the remarks.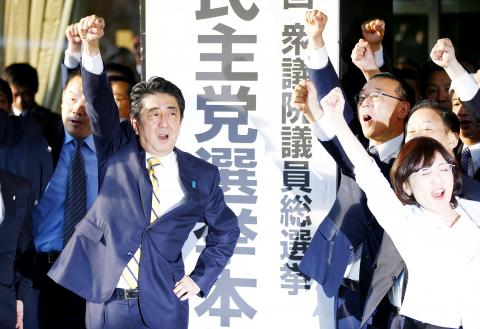 Japanese Prime Minister Shinzo Abe, left, and his party's lawmakers raise their fists as they pledge to win in the upcoming lower house election at their party headquarters in Tokyo yesterday.
Photo: Reuters
"Let's fulfill our responsibility to make Japan a country that once again shines at the center of the world," he said.
"I promise to take the lead so that all of you here will be elected. Let's grab a win together," he said.
Abe, who is going to the polls less than half way through a four-year term, said earlier this week that he wanted voters' endorsement for his decision to postpone a sales tax rise slated next year, after data this week showed an earlier levy hike knocked the economy into recession.
"I'm fully aware that it's going to be a tough election," he told a business group in Tokyo on Thursday.
"Through the election campaign, I want to clarify if the growth strategy we are pushing is right or wrong," he said.
The last 24 months have seen two of the so-called "three arrows" of the prime minister's Abenomics policy blitz fired — massive fiscal stimulus and a flood of easy money. A third "arrow" of structural reforms has inched along as it faced resistance from the vested interests, including a politically powerful farm lobby, that it is intended to undermine.
"The third arrow has never flown at all because it faces resistance" even from Abe's own conservative Liberal Democratic Party (LDP), Kenji Eda, coleader of the opposition Japan Restoration Party, said on Thursday.
Banri Kaieda, head of the main opposition Democratic Party of Japan, also said on Thursday: "We can't have the [rich-poor] gap widen. We can't give him a blank cheque for another four years."
According to opinion polls conducted by the Asahi Shimbun this week, the Abe Cabinet's approval rate fell to 39 percent from 42 percent earlier this month.
Its disapproval rate rose to 40 percent from 36 percent, pushing it above his approval rate for the first time since he took office in December 2012, the survey showed.
Abe has tried to cast the election as a referendum on his decision to delay the sales tax hike to 10 percent, after the first jump to 8 percent from 5 percent on April 1 sent consumers scurrying for cover and took a huge bite out of the world's No. 3 economy.
However, the Asahi survey said 65 percent of voters were not convinced by his reasoning to call a snap election.
Most commentators agree that the election is a fig leaf to cover Abe's attempt to consolidate his own position within his fractious LDP, and to fend off challengers in a party leadership election scheduled for September next year.
However, Abe runs the risk of undermining his authority if his coalition's majority is cut too much.
Meanwhile, a new mandate would bolster the prime minister's case for pushing ahead with the restarting of nuclear reactors. It would also strengthen Abe's hand on pet issues such as reforming Japan's view of its 20th-century military aggression, which he and other nationalists say is masochistic.
Comments will be moderated. Keep comments relevant to the article. Remarks containing abusive and obscene language, personal attacks of any kind or promotion will be removed and the user banned. Final decision will be at the discretion of the Taipei Times.