Burkina Faso set to appoint army's Zida as prime minister
Veteran diplomat Michel Kafando, just sworn in as Burkina Faso's interim president to oversee a year-long transition to civilian rule, was to appoint yesterday army strongman Lieutenant-Colonel Isaac Zida as prime minister, a senior officer said.
The deal has been agreed between politicians and army leaders, the officer said.
"We negotiated the post of prime minister. Everyone agrees," the officer said, adding that the post of prime minister will "return to Lieutenant-Colonel Zida."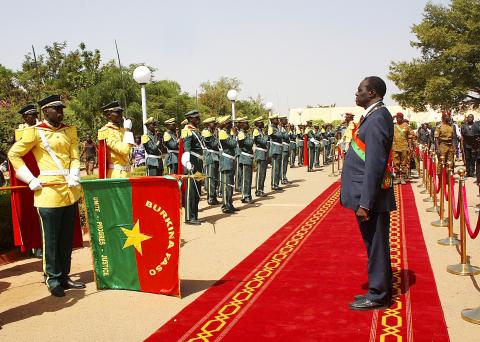 Michel Kafando reviews a guard of honor on Tuesday after being sworn in as the transitional president of Burkina Raso in Ouagadougou.
Photo: EPA
"It was on this understanding that we gave the post of president ... to civilians," the officer added.
Zida was put in power in the immediate aftermath of the uprising against longtime-leader Blaise Compaore last month.
Kafando was sworn in on Tuesday and pledged he would not let the country become a "banana republic."
The one-time foreign minister vowed to "respect and defend the constitution, the transition charter and laws, and do everything to guarantee justice for all Burkinabes" as he took the oath at a televised ceremony in the capital, Ouagadougou.
Poised to formally take over tomorrow from an interim military ruler, the 72-year-old emphasized his "humility" as a leader aware that he temporarily held "power that belongs to the people."
"The constitution of a country holds the keys to the very organization of the state. To change it too much leads to a breakdown in society, to regrettable upheavals such as we have recently known," Kafando said.
The landlocked nation of 17 million people "could never become a banana republic," he added, declaring that it was the "first elementary duty of a citizen" to respect the constitution.
Mass unrest erupted late last month over Compaore's bid to change the constitution, which would have allowed him to extend his 27-year rule of the former French colony.
Kafando, who served as Burkina Faso's UN envoy from 1998 to 2011 and as foreign minister in 1982 to 1983, was chosen to head the transition after tortuous negotiations between the military, political parties and civil society groups.
He is barred from standing in elections scheduled to be held in November next year under the transitional deal.
The African Union had warned that the deeply poor country would face sanctions unless it chose an interim leader, and it welcomed Kafando's appointment.
However, the decision to hand power to a man closely associated with the former regime raised suspicions for many.
"Compaore said for 27 years that he was not thirsty for power, yet he remained firmly in his job," said Amadou Sawadogo, a 37-year-old street seller.
Burkina Faso exports cotton and gold, but almost half the population lives on less than US$1 a day and many are subsistence farmers.
"It is an awesome responsibility that falls to me, I already foresee the pitfalls and the immensity of the task," Kafando told reporters after he was named on Monday.
Kafando, who was chosen by a panel of 23 officials, was tasked with appointing a prime minister — either a civilian or a military figure — who will head a 25-member transitional government.
A civilian will also head a 90-seat parliament, known as the National Transitional Council.
According to a draft of the blueprint, no members of the interim regime will be allowed to stand in the November election next year.
Comments will be moderated. Keep comments relevant to the article. Remarks containing abusive and obscene language, personal attacks of any kind or promotion will be removed and the user banned. Final decision will be at the discretion of the Taipei Times.