Missouri calls in Guard over Ferguson
DESIRE TO PROTECT: Missouri Governor Jay Nixon said that the National Guard had been sent in to uphold 'the dual pillars' of public safety and protesters' free speech
Missouri Governor Jay Nixon declared a state of emergency on Monday, allowing him to activate the Missouri National Guard in preparation for a grand jury decision on whether to indict a white police officer for shooting to death an unarmed black teenager, Michael Brown, three months ago.
The declaration was certain to add to mounting tension as people awaited the grand jury's decision, which officials have said is expected this month. Many here have said they expect the grand jury to decide against indicting the Ferguson officer, Darren Wilson, and they anticipate a show of anger and protest afterward. Some protesters said that calling up the National Guard before a grand jury decision was a premature, antagonistic move that presumed that demonstrations would be violent.
Nixon called up the guard in August during demonstrations that sometimes grew violent. Although the guard's role was limited to protecting a police command post, its presence drew vehement criticism from demonstrators, who said it was further indication of a military-style approach by the law enforcement authorities.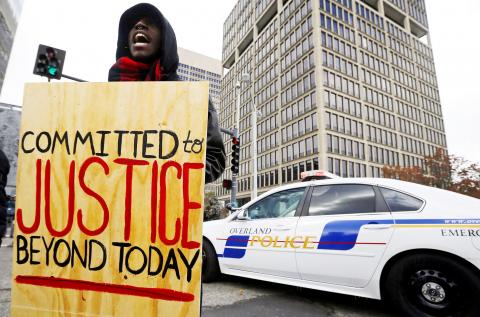 A demonstrator blocks an intersection in Clayton, Missouri, on Monday during a protest over the shooting death of Michael Brown.
Photo: Reuters
Nixon said last week he was considering the guard as part of a contingency plan. A spokeswoman for the governor said on Monday that the new order was "simply the next step in continuing efforts to plan and be prepared for any contingency, and that means making sure these resources are in place in advance of any announcement."
Nonetheless, the governor's order made National Guard involvement a certainty and suggested that a decision was near. His order will last for 30 days.
In a conference call with reporters, Nixon said his decision to send the guard to the St Louis area came from a desire to protect what he called "the dual pillars" of ensuring public safety and allowing protesters to speak.
"To achieve those goals, we need to be prepared," he said, "and we need to be proactive and to have resources in place in advance of any announcements."
The governor would not say how many troops were being mobilized, and he said his declaration of a state of emergency did not mean that he believed violence was inevitable. He said having guard members present in a support role would "free up law enforcement to focus on community policing and protecting constitutional rights."
"My hope and expectation is that peace will prevail, but I have a responsibility to plan for any contingency that might arise," Nixon said.
The governor's order gave responsibility to Missouri's adjutant general to call "such portions of the organized militia as he deems necessary to protect life and property and assist civilian authorities."
The governor's move also formalizes an arrangement that local law enforcement officials have made to handle the St Louis region, including this small suburb, in the days and weeks after the grand jury returns: Three departments — the Missouri State Highway Patrol, the St Louis County Police and the Police Department for the city of St Louis — have created a "unified command" to oversee the area, including Ferguson, whose police department is notably not included.
St Louis Mayor Francis Slay said that he supports Nixon's decision to send the Missouri National Guard to the city in case there is unrest after the grand jury's decision.
However, Slay said troops operating within the city would have a "secondary role" and that police officers would be the ones dealing directly with demonstrators.
Comments will be moderated. Keep comments relevant to the article. Remarks containing abusive and obscene language, personal attacks of any kind or promotion will be removed and the user banned. Final decision will be at the discretion of the Taipei Times.