Police arrest 60 at Dutch 'Black Pete' festival
Police arrested 60 people on Saturday as protesters clashed at a traditional Dutch festival for children that critics deem racist, but that is defended by many as harmless fun before Christmas.
The event re-enacts the arrival of Saint Nicholas, bringing presents for children with the assistance of his sidekick Black Pete, who is invariably played by a white person with a blackened face.
The celebration is increasingly seen as racist in a nation that has become more diverse and multiethnic since World War II. However, supporters of Black Pete say that the caricature is an integral part of Dutch culture that is now under fire from outsiders.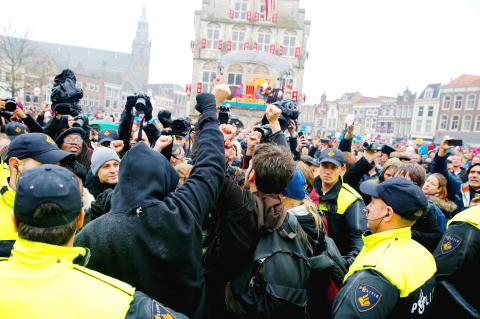 Police control anti-Black Pete demonstrators in Gouda, the Netherlands, on Saturday, as the historic city welcomes Sinterklaas, the Dutch version of Santa Claus (Saint Nicolas) and "Zwarte Piet," or Black Pete.
Photo: AFP
Dutch cities take turns hosting the start of the annual festival, with Gouda opening this year's carnival. Scuffles soon broke out between protesters demonstrating both for and against the occasion, while police made dozens of arrests.
Some children got mixed up in the trouble, Gouda Mayor Milo Schoenmaker was quoted as saying by news Web site nu.nl, adding that he was "disappointed" by the confrontations.
Most of those detained were arrested for staging their protest in the center of the medieval city, where the festival was taking place, rather than taking part in authorized protests in designated zones that were well away from the party.
In recent years, city authorities have come under pressure to ban or modify the event. This year there was talk of experimenting with orange, yellow or even rainbow Petes.
Dutch Prime Minister Mark Rutte was drawn into the conflict this week, telling reporters that the future of Black Pete was not something that politics could resolve.
"Personally, I think he can stay black, but this is a matter for the community. It is not a task for politics," Rutte said in his weekly press conference. "As you know, I am in favor of small government."
Comments will be moderated. Keep comments relevant to the article. Remarks containing abusive and obscene language, personal attacks of any kind or promotion will be removed and the user banned. Final decision will be at the discretion of the Taipei Times.