Pena Nieto travels despite unrest
HOT WATER: The Mexican president, under fire for the purchase of a luxury home, traveled to China despite thousands marching in the capital over 43 missing students
Mexico's president left on Sunday on a six-day trip to China and Australia amid angry protests over the suspected massacre of 43 college students by a gang allied with corrupt police.
Angry protesters tried to break into Mexico City's National Palace late on Saturday, while others torched several trucks in the southern state of Guerrero, where the students vanished in September.
Thousands of people marched in the capital over a case that has repulsed the nation and triggered the biggest crisis of Mexican President Enrique Pena Nieto's administration.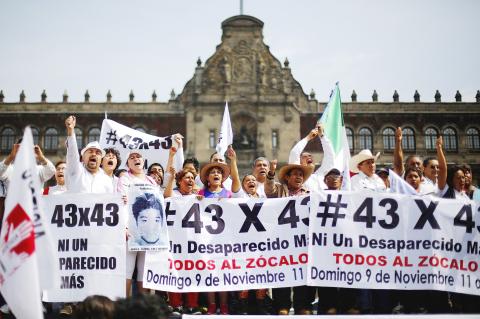 People carry banners and flags as they take part in a protest to demand more information about 43 missing students at Zocalo Square in Mexico City on Sunday.
Photo: Reuters
The protests came a day after authorities said suspected Guerreros Unidos gang hitmen confessed to receiving the students from local police, killing them, incinerating their bodies and dumping them in a river in Guerrero.
Authorities said they are still waiting for DNA results to confirm the identities of the remains, but the apparent mass murder has shattered Pena Nieto's attempts to move Mexico's narrative away from years of drug violence and toward the economic reforms that have earned him international praise.
Despite the unrest, Pena Nieto left for China to attend an APEC summit before a two-day state visit in the country, with which he is seeking closer ties.
He will then travel to Brisbane, Australia, for a G20 summit, before returning to Mexico on Saturday.
Pena Nieto used a layover in Alaska to defend the trip, telling reporters it would be "irresponsible" for him to miss summits that are important for Mexico.
A new controversy emerged during his travels, as the news Web site Aristegui Noticias reported that his wife had bought a luxurious home owned by a Mexican firm linked to a Chinese-led consortium that had won a bullet train contract.
Pena Nieto abruptly canceled the contract on Thursday last week after the opposition questioned the transparency of the bidding process, in which the Chinese-Mexican group led by China Railway Construction Corp was the only bidder.
Pena Nieto's office said in a statement that his wife, former soap opera star Angelica Rivera, had purchased the home on her own. Aristegui Noticias valued the property at US$7 million.
Amnesty International has charged that the trip "shows the lack of interest in confronting the grave human rights situation in Mexico."
"It's a joke. It shows his lack of moral courage, playing with the feelings and dignity of 43 students," said Juan Gonzalez, a student from their Ayotzinapa teacher-training college in Guerrero.
Gang-linked police shot at busloads of students in the Guerrero city of Iguala on Sept. 26 in a night of violence that left six people dead.
Police then handed the 43 students to the Guerreros Unidos.
Prosecutors say the city's mayor, worried that the students would interrupt a speech by his wife, had ordered the police to confront them. They are among 74 people, including police and gangsters, detained in the investigation.
The suspected mass murder would rank among the worst massacres in an eight-year drugs war that has killed more than 80,000 people and left 22,000 others missing since 2006.
The students had traveled to Iguala to raise funds, but hijacked four buses to return home, a common practice among the young men known for their radical left-wing politics.
Parents of the students, who deeply distrust the government, refuse to believe the authorities until they get DNA results from independent Argentine forensic experts.
Comments will be moderated. Keep comments relevant to the article. Remarks containing abusive and obscene language, personal attacks of any kind or promotion will be removed and the user banned. Final decision will be at the discretion of the Taipei Times.