Putin, Barroso are hot topics in British bonfires
Effigies of Russian President Vladimir Putin in nothing other than green underwear and former European Commission president Jose Manuel Barroso are among those being paraded and burned during traditional British bonfire celebrations this week.
The effigies were unveiled as part of Guy Fawkes Night, a nationwide celebration on Wednesday featuring bonfires and fireworks that marks a failed plot to blow up the Houses of Parliament in 1605.
The Putin effigy — which had him sitting on a tank in a nod to Moscow's intervention in Ukraine — was paraded through Lewes in southeast England on Wednesday, home of one of Britain's biggest bonfire celebrations.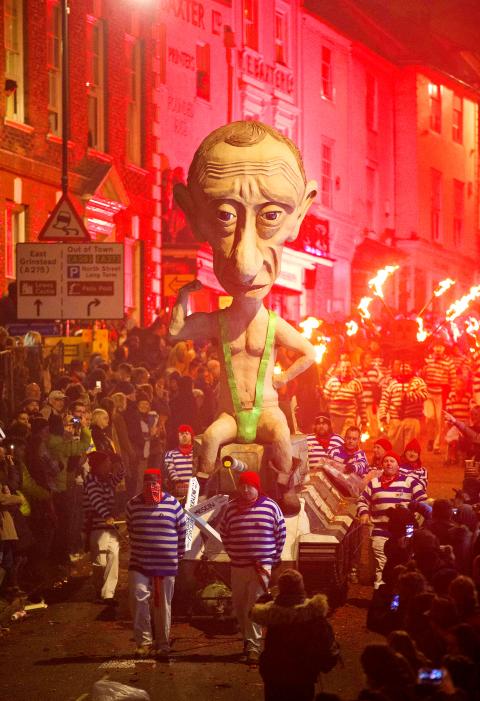 An effigy of Russian President Vladimir Putin is paraded on Wednesday through the streets of Lewes in Sussex, England.
Photo: AFP
The Russian leader was naked except for bright green underwear pulled over his shoulders, in the style of fictional comic character Borat.
Meanwhile, in Edenbridge in Kent, the local bonfire society unveiled a 10m effigy of Barroso, the Portuguese politician who headed the European Commission until last month.
The effigy held an EU budget bill in one hand — referencing a recent £1.7 billion (US$2.7 billion) bill sent by Brussels to London recently, which has sparked a bitter row.
Dressed in a blue suit with the stars of the EU flag and holding a British bulldog, the Barroso figure is to be burned tomorrow in Edenbrige bonfire celebrations.
"We do try very hard to pick somebody who is absolutely current in the news," said Jon Mitchell, a member of the local bonfire society, adding: "We only made the decision on Tuesday of last week and we started building Jose on Thursday."
Traditionally it is Guy Fawkes, leader of the failed so-called "Gunpowder Plot," who gets thrown on the bonfire. However, in recent years, celebrities and public figures have become common.
Lewes' festival, where flaming crosses are paraded in commemoration of Protestants burned at the stake in the 16th century, has been known for provocative choices since an effigy of Osama bin Laden in 2001.
Previous targets have included soccer players Mario Balotelli and Wayne Rooney, former French president Jacques Chirac and former Iraqi president Saddam Hussein.
Two large effigies of Scottish First Minister Alex Salmond, who led a failed push for Scottish independence, were withdrawn from the festival on Wednesday after a photograph of one posted online caused a storm of protest.
Salmond's effigy was dressed in a tartan outfit and held a sign reading "45%" — the proportion of Scots who voted to break away from the UK in a close-run September referendum.
Online commentators said the figure, which included the Loch Ness Monster wearing a traditional Scottish Tam o' Shanter hat, was anti-Scottish.
Sussex police said that "concerns have been raised" about the effigy and that a complaint would be investigated.
Comments will be moderated. Keep comments relevant to the article. Remarks containing abusive and obscene language, personal attacks of any kind or promotion will be removed and the user banned. Final decision will be at the discretion of the Taipei Times.