US capital votes 'yes' to legalize marijuana
Voters in the US capital backed legalizing marijuana on Tuesday, in a symbolic victory for campaigners aiming to build on two states' decision in 2012 to allow weed for recreational purposes.
Washington approved the measure by 64 percent in favor and 29 percent against, according to partial results posted online, in a move adding the nation's capital to Colorado and Washington state in legalizing pot.
Meanwhile, Florida appeared to have failed to approve a measure allowing marijuana for medical purposes. About 57 percent voted in favor, less than the 60 percent required for the proposal to pass, partial results showed.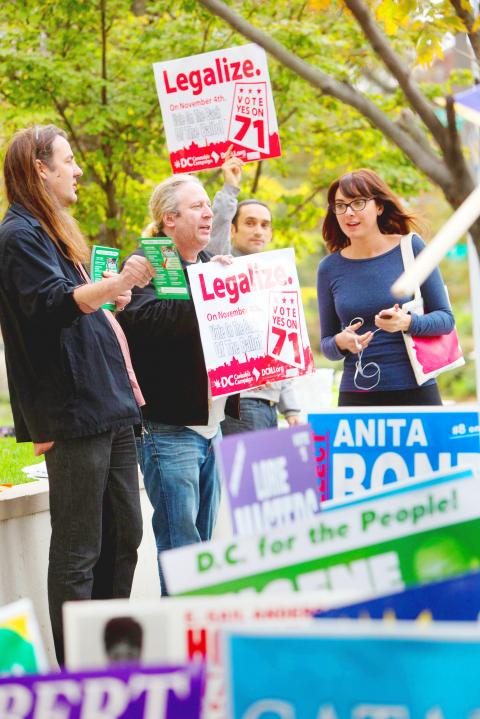 Alan Amsterdam, second left, and Cesar Maxit, third left, volunteers with the D.C. Cannabis Campaign, talk to a voter about the ballot initiative to legalize marijuana in front of a polling location in the Adams Morgan neighborhood on Tuesday in Washington.
Photo: AFP
Oregon and Alaska were also voting on marijuana-related proposals, but polls closed later in the western US states, so results were still awaited.
"The D.C. loss is unsurprising, but disappointing," said Kevin Sabet, an opponent of legalizing pot in Oregon, where it was also on the ballot.
"And the fight isn't over. We will be working to ensure that marijuana is not commercialized in D.C.," he said, as results from nationwide referendums continued to pour in.
It is still against federal law to consume, sell and possess cannabis, but about 20 states have either partially or fully decriminalized it.
In 2012 Colorado and Washington, both western US states, voted to legalize marijuana for recreational purposes. Colorado rapidly became a pioneer for the retail commercialization of pot sales along the lines of regulating tobacco sales.
Mike Elliott, head of the Colorado-based Marijuana Industry Group, hailed the Washington result.
"More and more people are realizing that it makes sense to choose licensed, regulated and taxed marijuana businesses over the drug cartels," he said.
"Colorado is showing the rest of the world that reforming marijuana laws can enhance safety, the economy and our basic civil liberties," he added.
Marijuana was just one subject being voted on, along with everything from abortion to gay marriage and genetically modified organisms to bear-baiting, in state and local referendums held on the sidelines of the US midterm elections.
Same-sex marriage, which is also in the process of being legalized by many US states, was put to a referendum in Arizona, which amended its constitution to outlaw it five years ago.
Another burning question: the minimum wage. Fixed at US$7.25 by federal law, it was the subject of votes in five states (Arkansas, Alaska, Illinois, Nebraska and South Dakota), and about 20 towns and cities.
Another hot-button issue, abortion, was on the ballot in Colorado, North Dakota and Tennessee.
Firearms measures were voted on in Alabama, Missouri and Washington state, where there were two opposing ballots: one making it tougher to buy a gun by imposing background checks, and the other seeking to ban exactly that measure.
Eight towns and cities voted on anti-fracking proposals. The extraction of oil and gas from shale via hydraulic fracturing has boosted US oil production, but critics fear its impact on the environment.
Several towns and cities voted on measures against genetically modified organisms. Referendums in the western US states of Oregon and Colorado sought to make it mandatory to label food containing such organisms.
On a lighter note, in California a measure proposed in San Francisco and Berkeley would impose a tax of US$0.01 per centiliter on sugary beverages, in a bid to combat obesity and other health problems.
Voters in Alaska were consulted on a proposal to ban mining activity if it endangers wild salmon.
Also aiming to protect animals, the east coast state of Maine was asked to ban bear-baiting, and in particular the use of cold pizza and donuts as lures.
Comments will be moderated. Keep comments relevant to the article. Remarks containing abusive and obscene language, personal attacks of any kind or promotion will be removed and the user banned. Final decision will be at the discretion of the Taipei Times.