Mexico captures alleged leader of Juarez drug cartel
Mexican security forces on Thursday captured the alleged leader of the once-feared Juarez cartel on Thursday, the second drug kingpin to fall in just over a week.
Vicente Carrillo, 51, considered the long-time head of the Juarez cartel, was a fierce rival of Joaquin "Shorty" Guzman, the leader of the Sinaloa cartel and the world's most-wanted drug boss until his capture in February.
A turf war between the two cartels from 2009 to 2011 unleashed a bloodbath in Ciudad Juarez, in Chihuahua state on Mexico's border with Texas, making it one of the most violent places in the world.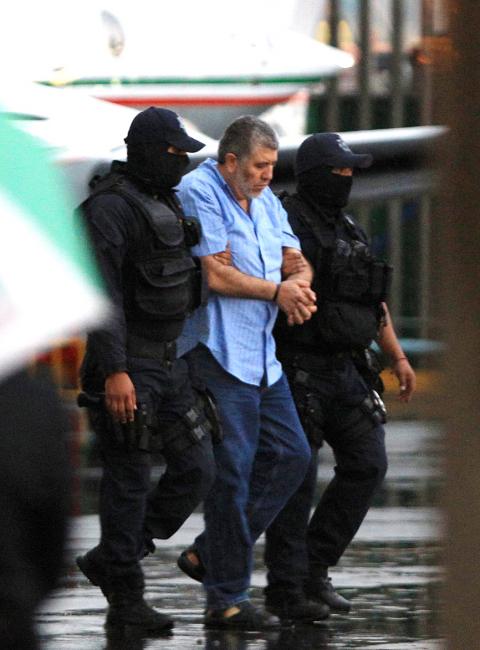 Mexican police detain the alleged leader of the Juarez drug cartel, Vicente Carrillo Fuentes, on Thursday.
Photo: EPA
Carrillo, alias "The Viceroy," was reportedly captured after identifying himself with a false name at a checkpoint in Torreon, Mexican National Security Commissioner Monte Rubido said in a press conference.
No shots were fired in his arrest, Rubido said, adding that Carrillo was wanted on five charges related to organized crime and drug trafficking.
"The criminal organization that he led up until today led to the strengthening in Chihuahua of various groups that at one time contributed to Juarez being considered one of the most violent cities in the world," Rubido said.
The US had put a US$5 million bounty on Carrillo, while Mexico had offered a 30 million peso (US$2.23 million) reward.
A keen horseman who reportedly used a network of cattle ranches in the northern state of Chihuahua to store shipments of Colombian cocaine, Carrillo took over the Juarez cartel in 1997 after his brother Amado, known as "The Lord of the Skies," died during plastic surgery.
Carrillo's capture comes just days after Hector Beltran Leyva, one of the most notorious Mexican drug lords still at large, was captured by soldiers in a picturesque town in central Mexico popular with US retirees.
Carrillo, a devout Catholic, was seen as more discreet than his flamboyant brother, but his position was weakened by the violence in Ciudad Juarez that claimed nearly 12,000 lives between 2008 and 2012 alone.
Comments will be moderated. Keep comments relevant to the article. Remarks containing abusive and obscene language, personal attacks of any kind or promotion will be removed and the user banned. Final decision will be at the discretion of the Taipei Times.