Brazilians vote in nail-biter elections
'TOO CLOSE TO CALL': With incumbent Dilma Rousseff in front, her two closest rivals are fighting a tight race to see who will face her in a runoff for control of the country
Brazilians took to the polls yesterday in the most unpredictable presidential election in decades and the first since the end of an economic boom underpinning the leftist Workers' Party's 12-year rule.
As Brazilian President Dilma Rousseff seeks a second term, voters are weighing if the socioeconomic gains of the past decade are enough to reject the candidacies of a popular environmentalist and a pro-business social democrat, who both promise to jumpstart the economy after four lackluster years.
Polls now show Rousseff as the front runner in a race that is likely to go to a runoff on Oct. 26, following one of the most competitive campaigns since Brazil returned to democracy in 1985. The death of one candidate, the unexpected surge of another and bitter marketing by Rousseff to claw back the lead have contributed to a nail-biter election as uncertain as Brazil's course.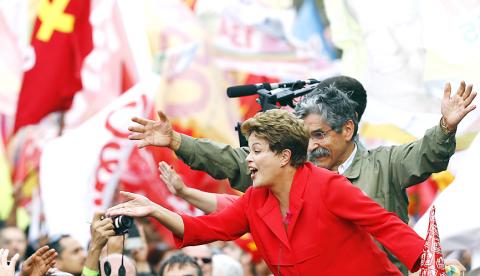 Brazilian President Dilma Rousseff interacts with supporters at a campaign rally in Porto Alegre, Brazil, on Saturday, ahead of yesterday's general elections.
Photo: Reuters
"It really is too close to call," said Rafael Cortez, a political analyst with Sao Paulo consultancy Tendencias.
Rousseff's main rivals are Marina Silva, a hero of the global conservation movement and ruling party defector now with the Brazilian Socialist Party, and Aecio Neves, a senator and former state governor from the Brazilian Social Democracy Party, the centrist party that laid the groundwork for the country's economic boom.
Silva and Neves, in a last-minute sprint for runner-up, both vow to return to the market-friendly economic policies critics say Rousseff abandoned, especially strict budget and inflation targets. They also promise to stop meddling with the big, state-run banks and firms that have been subject to political intervention and corruption recently.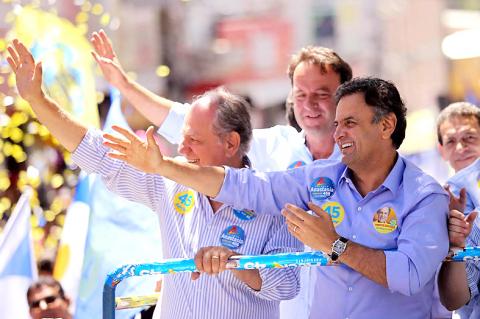 Brazilian Senator and presidential candidate Aecio Neves, right, on Saturday greets supporters in Belo Horizonte, Brazil, in a handout from his campaign office.
Photo: AFP
"It's shameful what has happened to our public companies," Neves said on Thursday during the final televised debate among the candidates, citing a multi-million dollar kickback scandal now roiling state-run energy company Petroleo Brasileiro SA, or Petrobras.
After trailing Silva for most of the campaign, Neves may have built up enough momentum to advance to a runoff against Rousseff. Three polls on Saturday showed him slightly ahead of Silva.
Rousseff can count on a bedrock of support among the working class, thanks to generous social welfare programs that grew in scope during the two terms of her hugely popular predecessor and political godfather, former Brazilian president Luiz Inacio Lula da Silva.
Brazilian presidential candidate Marina Silva waves upon arriving at the Rio Branco International Airport in Brazil on Saturday on the eve of the general elections.
Photo: AFP
"I will vote for Dilma," postman Cesar Rogerio said on Saturday, citing the uncertainty many working-class voters feel about the direction her rivals might take. "It's bad with her, but will be worse without her."
Even after mass protests a year ago sparked by the economic malaise and anger over corruption and poor public services, Rousseff heads into the first round as the favorite.
Rousseff might even eke out a first-round victory, although no poll has suggested she has the impetus to clear the 50 percent needed to win the election. The numbers for a runoff are tighter, but also give the incumbent an edge.
After the boom of the past decade lifted more than 30 million people from poverty, the economy has slowed, dipping recession last quarter and on track to grow less than 2 percent a year by the end of Rousseff's term in December. Despite this, unemployment remains near a record low, boosting her popularity among the working class.
The day-long vote will unfold at 450,000 polling stations across the country of 200 million people. Voters will also elect governors, Congress members and state legislators.
More than 140 million people are registered to vote in the country, where everyone between the ages of 18 and 70 is required to cast a ballot. The voting is fully computerized, meaning results are expected just a few hours after polls close.
Comments will be moderated. Keep comments relevant to the article. Remarks containing abusive and obscene language, personal attacks of any kind or promotion will be removed and the user banned. Final decision will be at the discretion of the Taipei Times.