US parents beseech kidnappers
MOTHER'S PLEA: Paula Kassig said in a video that she wants freedom for her son so 'we can hug you again' and so that he could continue a life of service to people
The parents of a US man threatened with beheading by the Islamic State are pleading with his captors to free him, saying in a video statement on Saturday that their son has devoted his life to humanitarian work and aiding Syria's war refugees.
Ed and Paula Kassig's video was released a day after an Islamic State, formerly known as the Islamic State of Iraq and the Levant, online video threatened to behead 26-year-old Peter Kassig next — following the slaying of British aid worker Alan Henning.
That video was a heartbreaking development for Kassig's family and friends, who had stayed silent since his capture while working to secure his release.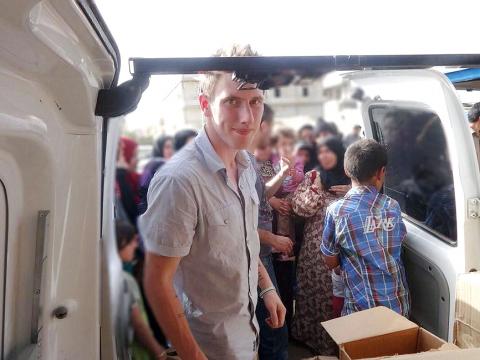 US aid worker Peter Kassig poses at the back of a truck somewhere along the Syrian border between late 2012 and late last year in a Kassig family handout photograph received on Saturday.
Photo: AFP
In the family's video, Ed Kassig says his son, who now goes by the first name Abdul-Rahman after converting to Islam during his captivity, was captured on Oct. 1 last year in Syria, where he was providing aid for Syrians fleeing the nation's civil war.
He says his son has grown "to love and admire" Syrians, after growing up in an Indianapolis family with a long history of humanitarian work and teaching.
"Our son was living his life according to that same humanitarian call when he was taken captive," said Ed Kassig, a teacher.
The family says Peter Kassig, a former US Army Ranger, formed the aid organization Special Emergency Response and Assistance in Turkey to provide aid and assistance to Syrian refugees.
He began delivering food and medical supplies to Syrian refugee camps in 2012 and is also a trained medical assistant who provided trauma care to injured Syrian civilians and helped train 150 civilians in providing medical aid, they said.
His work in Lebanon led to his capture when he crossed the border into Syria. After that, the organization suspended its aid efforts.
Paula Kassig, a nurse, sits next to her husband on a couch in the couple's three-minute video, wearing a head scarf and holding a photograph of her son as she speaks directly to him.
"Most of all, know that we love you, and our hearts ache for you to be granted your freedom so we can hug you again and then set you free to continue the life you have chosen, the life of service to those in greatest need," she said. "We implore those who are holding you to show mercy and use their power to let you go."
The family says Peter Kassig served in the army from 2006 to 2007. He was a member of the 75th Ranger Regiment and served four months in Iraq in 2007 before being medically discharged at the rank of private first class in September of that year, his military record shows.
Peter Kassig focused on humanitarian work after leaving the military. While attending Indianapolis' Butler University, he worked to help refugees from Myanmar who had resettled in central Indiana, family spokeswoman Jodi Perras said.
Comments will be moderated. Keep comments relevant to the article. Remarks containing abusive and obscene language, personal attacks of any kind or promotion will be removed and the user banned. Final decision will be at the discretion of the Taipei Times.