Global march targets poaching crisis
Thousands marched in Africa and around the world on Saturday to pressure governments to do more to stop the poaching industry that many fear is driving rhinos and elephants to the brink of extinction.
The protests, dubbed the Global March for Elephants and Rhinos, took place in 136 cities and towns across six continents, including Tokyo, Paris, Soweto, Nairobi and New York.
In South Africa, which is struggling to stem a rhino poaching crisis, demonstrators gathered across 17 cities.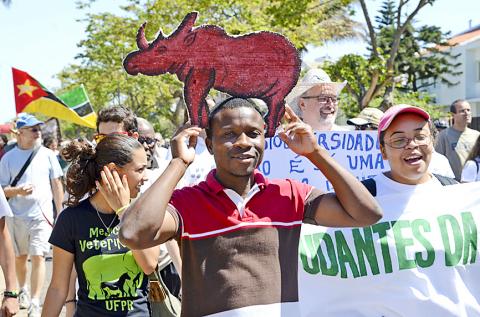 Hundreds of Mozambicans march against the poaching of elephants and rhinos on World Animal Day, in Maputo, Mozambique, on Saturday.
Photo: EPA
"We are protesting against the political leaders of the world, who do not have the guts and political will to make changes in their laws," Dex Kotze, one of the march organizers, told a reporter.
"We have to do this for our future generation," he added. "The youth today are making a statement globally in 136 cities that it is their heritage that is being killed."
From 27 million elephants 350 years ago, Africa now has about 400,000 left, Kotze said. About 9 percent of those are being killed each year, he added.
South Africa, home to the world's largest rhino populations, has seen at least 700 killed so far this year. Poaching of the rare African animal is increasing to meet demand from Asian countries where the horn has long been used in traditional medicines for a variety of ailments, including fever and rheumatism.
Kotze said the protests meant to highlight the so-called "Gang of 19" countries listed by Convention on International Trade in Endangered Species — the international regulatory body for trade in wildlife — as not doing enough to curb trafficking.
Among the nations under scrutiny are China, Vietnam, Laos, Mozambique, Angola and Kenya.
"These countries need to change their laws," Kotze said, singling out China, which he said must shut its 37 ivory carving factories and 130 retail outlets, or "we will lose all the elephants."
In the Kenyan capital, Nairobi, several hundred people turned out to make their voices heard.
"We do not want to wait until the day that there is one elephant standing in Kenya. We want to take action now," Let Live Movement founder Nyokabi Gethaiga said.
Kotze said that wildlife crime is worth an estimated US$20 billion a year and that "terrorist organizations like al-Shabaab are using ivory trafficking and exchange ivory for weapons."
Among the marchers at a demonstration in Iringa, Tanzania, was Kendall Marillier, 7, who carried a stuffed elephant.
"I do not want to see them in museums," he said. "In the wild. That is where they belong."
Small marches also took place in New York and Washington, with protesters demonstrating in the Big Apple despite the driving rain.
Outside the White House, demonstrators held up placards reading: "Say No Ivory" and "Save the Elephant," while one protester donned an elephant outfit.
Comments will be moderated. Keep comments relevant to the article. Remarks containing abusive and obscene language, personal attacks of any kind or promotion will be removed and the user banned. Final decision will be at the discretion of the Taipei Times.