Mexico catches drug lord in tourist haunt
Soldiers on Wednesday captured one of Mexico's most-wanted drug barons in a restaurant in a colonial town popular with US tourists and retirees.
Hector Beltran Leyva, known as "El H," was caught along with a suspected henchman in a seafood restaurant in San Miguel de Allende, a historic town in central Mexico, without a shot being fired, authorities said.
Tomas Zeron, director of investigations at the attorney general's office, said Beltran Leyva was passing himself off as a "well-off businessman dedicated to real estate and art sales to justify his lifestyle."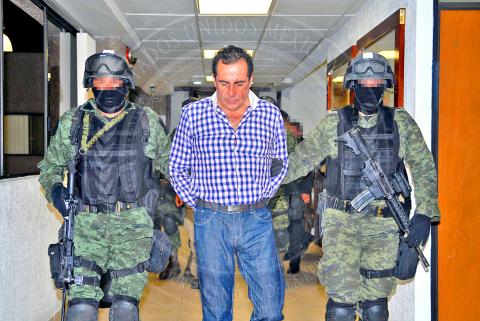 A handout picture released by Mexico's Attorney General's Office shows Hector Beltran Leyva, center, one of the nation's most-wanted drug kingpins, on Wednesday, during a press conference at the headquarters of the attorney general.
Photo: AFP
Beltran Leyva, who was carrying a gun during his arrest, was detained after an 11-month investigation, Zeron said. Military intelligence work allowed authorities to find his home in the central state of Queretaro.
San Miguel de Allende is 300km north of Mexico City in the neighboring state of Guanajuato. Founded in the 16th century, it is know for is cobblestone streets, well-preserved colonial buildings and old churches that make it a picturesque town that many artists and US retirees now call home.
The arrest allows Mexican President Enrique Pena Nieto to cross off another big fish from Mexico's most wanted list following the capture of Sinaloa cartel kingpin Joaquin "El Chapo" Guzman in February and Zetas leader Miguel Angel Trevino last year.
"This action proves the effectiveness of the public policy of security and law enforcement to get the peaceful Mexico that we desire," Pena Nieto wrote on Twitter.
Beltran Leyva, 49, inherited the throne of his family's drug clan when his brother and "boss of bosses," Arturo, was killed by marines in 2009 in a mansion in Cuernavaca, a popular weekend getaway for Mexico City residents.
Two other brothers, Alfredo and Carlos, are in jail.
Zeron called Hector Beltran Leyva one of Mexico's top drug traffickers, who specialized in moving cocaine from South America and Central America to lucrative US and European markets.
Mexico had offered a US$2.2 million reward for information leading to his arrest, on top of a US$5 million US bounty. He faces charges in Washington and New York courts.
The Beltran Leyva clan was initially allied with Guzman's Sinaloa crime syndicate, considered the biggest cartel in Mexico. However, the two cartels went to war after Alfredo Beltran Leyva was detained in 2008 following a betrayal by Guzman, officials have said.
It was after the split that the Beltran Leyvas formed their own cartel, which is believed to operate in a third of the country, mainly in the central and southern regions.
The gang has undergone internal power struggles and is known for its vast money-laundering operations and ability to corrupt officials.
Hector Beltran Leyva escaped capture once before in 2011, when he fled his home in Mexico City, where he lived with his wife and three of his daughters.
This time, he was arrested by soldiers at a controversial time for the army. The attorney general's office plans to charge three soldiers with murder for the killing of 22 drug gang suspects who authorities originally said died in a shootout with the military on June 30.
Comments will be moderated. Keep comments relevant to the article. Remarks containing abusive and obscene language, personal attacks of any kind or promotion will be removed and the user banned. Final decision will be at the discretion of the Taipei Times.