HONG KONG PROTESTS: Chinese baffled, inspired, irritated by protests in HK
For the tens of thousands of Chinese crossing the border into Hong Kong on Wednesday, the first day of China's week-long National Day holiday, the pro-democracy demonstrations sweeping the territory were an unexpected addition to the itinerary.
Unable to stage such demonstrations in China without fear of being detained or imprisoned, some said confidentially that they saw the student-led protests as an inspiration — something China's leaders have been at pains to prevent.
State censors have suppressed reports of the Hong Kong demonstrations on the mainland, scrubbed mentions from social media and recently blocked the photosharing app Instagram.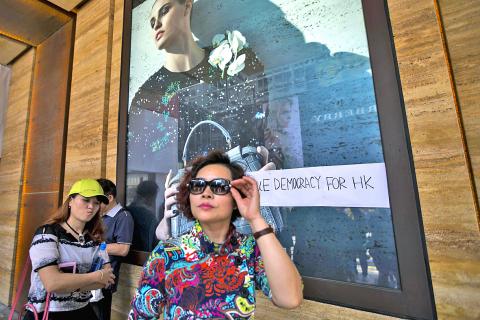 Chinese tourists walk past a sign that reads "True Democracy for HK" outside a luxury store in Tsim Sha Tsui, Hong Kong, on Wednesday.
Photo: Reuters
On Wednesday, Chinese travel agencies began suspending visas for group tours to Hong Kong, said Joseph Tung (董耀中), the head of the territory's Travel Industry Council. Individual tour visas, which account for the majority of Chinese visitors, appear unaffected, he added.
Human rights groups on Wednesday said that more than 20 people have been detained for expressing support for the protests, but for many Chinese tourists, the widespread sit-ins that have brought some of Hong Kong's busiest boulevards to a standstill since Saturday were an inconvenience — a logistical challenge to a program of shopping and sightseeing.
"I don't have any opinion about the politics of this," Zhou Peng, 34, a businessman from Chengdu, said on Wednesday as he took photographs of protesters camped out on Canton Road, a normally busy three-lane street in the heart of one of Hong Kong's most popular shopping districts for tourists.
"I came here over the holiday with my kid to see Hong Kong, but we can't do that," Zhou said, complaining about disruptions due to the demonstrations, which have included suspended bus routes, exceptional traffic gridlock over large parts of the territory and even the cancelation of Hong Kong's annual National Day fireworks display over Victoria Harbor.
"This affects our trip," he said.
Similarly, Lisa Bao, 26, from Zhejiang Province, stopped to take photographs of the protesters on Canton Road, but said they were spoiling her first trip to Hong Kong. She questioned why Hong Kongers had not staged democracy protests against their former British colonial rulers.
"In the past they had the British choose their leaders and they weren't terribly upset," Bao said. "Now they're part of China and under our socialist system, and they choose to stand up. I've heard that the United States is influencing this."
"It's really a pity," she added. "I just hope that this won't lead to chaos."
For the protesters, catching the attention of Chinese visitors is partly the point.
In the early hours of Wednesday, demonstrators expanded their sit-in zone to the Tsim Sha Tsui district in Kowloon, which includes Canton Road and is home to dozens of luxury retailers, including Fendi, Coach, Dolce & Gabbana, Prada and Louis Vuitton.
"The most important reason for coming here is there are a lot of tourists, a lot of luxury stores and people from mainland China," said Frankie Chan, 28, a Hong Kong securities broker who joined the occupation of Canton Road on Wednesday.
"They only have limited sources of information," he said. "We are not stopping their shopping. We are not against mainland tourists. We want to draw their attention to what Hong Kong is fighting for."
Many of the students demonstrating on the streets this week were born in Hong Kong and identify less with the Chinese mainland than their parents or grandparents, who may have been born there. At the same time, some Hong Kong residents curse mainlanders as "locusts," blaming them for a proliferation of luxury stores that have displaced businesses catering to locals, as well as a surge in property prices that has made a basic apartment unaffordable for many.
Tony Cong, 24, who arrived from Beijing a month ago to study at Hong Kong Baptist University, has experienced some of this sentiment in Hong Kong, but brushes it off, saying most locals he encounters are polite.
He said he had never seen anything like this week's protests.
"I think I speak for most students from the mainland when I say: 'Wow??'" he said.
"This kind of protest is totally new. We used to see it in books and documentaries, but this is the real thing," Cong said, despite expressing some reservations. "I admire their courage and sense of citizenship, but I am strongly concerned that they might get manipulated by politicians or activists seeking to undermine relations with the mainland."
Others were pessimistic over what the protests might ultimately achieve.
Kyle Sun, from Hebei Province, has been studying journalism at Hong Kong Baptist for the past two years.
"I don't support the protests, but I'm not against them either," Sun said. "I think the central government won't step back, because if they give Hong Kong more democracy, then other places, like Tibet or Macau, may have more problems."
"I feel pity for those Hong Kong protesters, because I've been to Admiralty many times," he added, referring to the Hong Kong district that is home to the government headquarters and the site of the largest protests. "The weather is quite hot, and everybody is devoting their time and money to fight for democracy, but I don't think this makes any difference because the central government will not step back to give real democracy to Hong Kong people."
The protests in Hong Kong have attracted an unknown number of Chinese participants, who could face arrest or other official recrimination back home if their support became known. Occasionally, they resort to creative euphemisms to describe their intentions.
"People are saying: 'I'm going to buy an iPhone 6,'" one businessman from Chongqing, who planned to travel to Hong Kong for the protests, said earlier this week. (Apple's newest smartphone is not yet officially available in China.)
"Most of us are going independently and quietly, as the minute you tell people you're going or you identify yourself, they may stop you," said the man, referring to the Chinese authorities. "I want to express my support for the people of Hong Kong in their peaceful demands for real elections."
Comments will be moderated. Keep comments relevant to the article. Remarks containing abusive and obscene language, personal attacks of any kind or promotion will be removed and the user banned. Final decision will be at the discretion of the Taipei Times.