HONG KONG PROTESTS: Hong Kong's teen protest leader
With his floppy hair, baggy shorts and stripy T-shirt, accessorized with a yellow ribbon around each skinny wrist, the only thing distinguishing the 17-year-old from the other teenagers on Wednesday was the bank of television cameras facing him.
Joshua Wong (黃之鋒) is too young to drive or buy a drink in a bar, let alone vote, yet as cofounder of Scholarism has become the face of the pro-democracy protests in Hong Kong and an inspiration to citizens, many three times his age.
He is already a veteran activist. At 15 he battled against plans to introduce "national education," which critics said was Beijing's "brainwashing."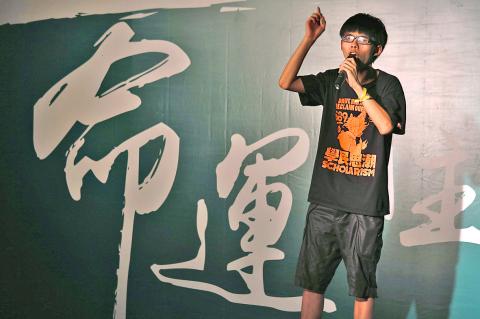 Joshua Wong, a 17-year-old who heads the group Scholarism, addresses a rally in Hong Kong on Sept. 26.
Photo: Reuters
Scholarism's campaign brought more than 100,000 people on to the streets in protest over that issue and the proposals were shelved. Wong became something of a celebrity — and probably the first mass-protest leader who had to call a press conference to discuss his exam results (he met the university entrance requirements).
His 40-hour detention, from Friday last week, along with others who stormed into the blocked-off government complex at Admiralty district, kick-started large-scale protests and catapulted him to global attention.
The arrests galvanized those previously indifferent to the student protests and sparked the wider civil disobedience movement that has focused on downtown Hong Kong.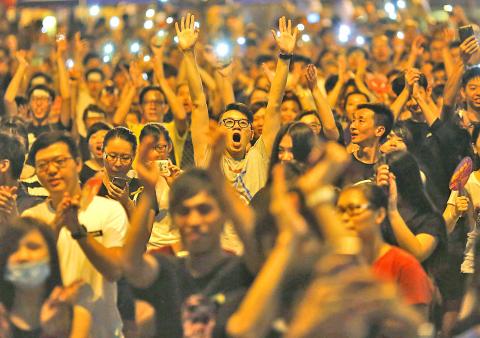 Protesters react as Joshua Wong, unseen, speaks to the crowd outside the government headquarters building in Hong Kong on Wednesday.
Photo: Reuters
The sudden fascination with Wong's role is not entirely to his satisfaction.
"If a mass movement turns into worshiping a particular person, that's a great problem," Wong said in 2012, after the campaign against national education.
More recently, asked about his heroes, he said: "You don't need role models to be part of a social movement as long as you care about the issues."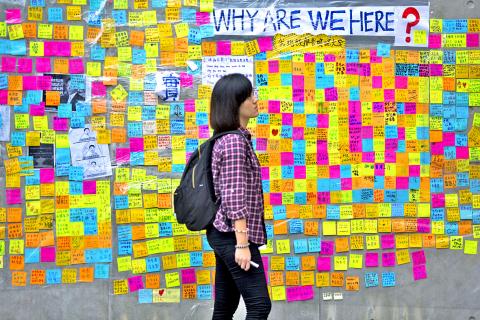 A woman walks past supporters' notes posted on a wall outside the government offices in Hong Kong yesterday.
Photo: EPA
Chinese state media have attacked Scholarism as being composed of extremists and a pro-Beijing Hong Kong-based paper claimed US forces had cultivated Wong as a "political superstar" — accusations Wong dismissed.
Despite his ardor and bluntness he is not a rabble rouser.
"He's passionate, but measured — measured beyond his years. He's so young, but so wise that you can't help but have a lot of time for him... he is every mother's son — filial, polite, principled, hard working," said Michael Vidler, a human rights lawyer who acted for Wong after his detention.
Vidler described Wong's parents, Grace and Roger, as "a very quiet, middle-class, ordinary family."
Wong has said: "They are not helicopter parents and do not spoil me... they have given me freedom."
However, the couple have taken part in protests, and in a blogpost Wong said his father took him to visit poor and suffering citizens when he was a child.
"He told me that I should care for the abandoned in the city. They... were living solitary and hard lives," Joshua Wong said.
The couple have described their son's detention as political persecution.
"We always brought up Joshua to be compassionate, caring, principled and loyal, and we're very proud of all that he's doing to make Hong Kong a better place," they said.
While he has focused on democracy, Wong has also sought to bring more citizens into the fold by spreading the message that politics is about ordinary life, not a disruption to or distraction from it.
"Many issues are closely related to politics and I think Hong Kongers should pay more attention to politics," he told the South China Morning Post.
On another occasion he said that imposing tight controls on candidates for the role of chief executive was like offering people the chance to eat at one of two shopping centers.
"Is it a real choice? The inside is very similar — you end up eating Pepper Lunch anyway," he said.
That such a young figure should emerge as the symbol of the protests is apt — crowds have been overwhelmingly youthful, a reflection of the organizational work done by Scholarism and the Hong Kong Federation of Students over recent years, but also of a generational shift in identity.
"Hong Kong has a bright future because of our youth. I feel so proud of them. It's their Hong Kong, it's their future," said barrister and former lawmaker Martin Lee (李柱銘), the 76-year-old sometimes referred to as the territory's father of democracy.
Wong has said that matters are already out of his hands and those of other activists.
"I can't predict what will be the outcome and how long we can continue with this action. Actually, this decision should be for the citizens, not Scholarism, Occupy Central with Love and Peace, or others," he said.
The spontaneous nature of the civil disobedience had put more pressure on the government and made it harder for them to target individuals, he said.
He believes, though, his phone is tapped and that he has been followed. Such "inconveniences" have not put him off and his greatest success as a campaigner could have been to show that his role has its limits — because so many people have been drawn in.
"Many citizens have said to me: 'Hong Kong relies on you' and some even called me a hero," he wrote on Facebook. "I feel uncomfortable and even irritated when I hear this praise. When you were suffering pepper spray and teargas, but decided to stay for the protest, despite the repression from the government, I was not able to do anything other than stare at a meal box and the blank walls of the detention room and feel powerless. The hero of the movement is every single Hong Kong citizen."
Comments will be moderated. Keep comments relevant to the article. Remarks containing abusive and obscene language, personal attacks of any kind or promotion will be removed and the user banned. Final decision will be at the discretion of the Taipei Times.