Three killed by Dutch stunt truck
Three people were killed and 18 injured, five seriously, when a giant pickup truck span out of control during a stunt show in the Dutch town of Haaksbergen on Sunday, local authorities said.
The accident happened when the driver of a giant, 1,500 horsepower truck with tractor-sized wheels failed to brake after driving across a row of parked prop cars during a stunt and instead plowed into a group of onlookers.
"A so-called monster truck drove into a crowd of spectators. A terrible accident with two dead victims, 18 wounded, [including] six severely wounded," town authorities said on their Web site on Sunday.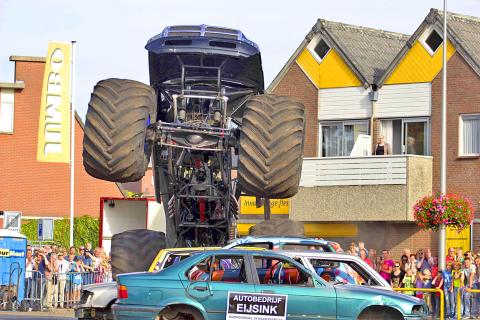 A monster truck is pictured in action during a demonstration in Haaksbergen, Netherlands, on Sunday. During the show the truck drove into the audience, killing three people and injuring 18.
Photo: EPA
"A third victim has died from Sunday's accident," Haaksbergen Mayor Hans Gerritsen said in a statement yesterday. "Five people are still in a critical condition."
The dead are a boy, a man and a woman.
The driver was arrested, local police said in a tweet.
Amateur videos of the accident posted on Facebook showed the truck revving hard and then riding over six cars, before suddenly heading toward spectators lining the square, who were separated from the show by only flimsy metal barriers.
Screaming, some managed to scurry away, but others had no time to escape.
The injured were taken to hospitals in three nearby towns, while air ambulance helicopters from the entire region flew to the scene of the accident, including one from nearby Germany, emergency services said.
Additional reporting by AFP
Comments will be moderated. Keep comments relevant to the article. Remarks containing abusive and obscene language, personal attacks of any kind or promotion will be removed and the user banned. Final decision will be at the discretion of the Taipei Times.