FEATURE: Activists rally to save Berlin Wall relic 25 years on
A rare remnant of the Berlin Wall lies at the end of an overgrown path next to the Spree River, but as the 25th anniversary of its fall approaches, the relic is under threat.
Berliners ripped down the despised wall as fast as they could in the giddy months after Nov. 9, 1989, when the border between East and West was finally thrown open.
A quarter-century later, there is a growing sense in Germany that the last concrete testaments to the city's Cold War division must be preserved.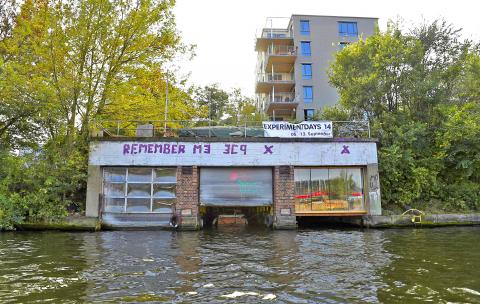 A bunker used to house speedboats for former East German border guards stands on the Spree River in Berlin on Tuesday.
Photo: AFP
The ruins in question include an around 18m-long, graffiti-smothered slab of the wall on the riverbank, as well as fences coiled with rusting barbed wire and towering lamps that prevented anyone slipping out under cover of darkness.
A short walk down the path is what historians call the most valuable part of all: a "bunker" used to house three of the 26 speedboats driven by patrolling border guards ready to give chase to would-be refugees trying to swim to freedom.
Like something out of an early James Bond film, the dark and dank concrete cave sits right on the water, complete with a 1960s-era emergency telephone and moldy life jackets hanging from the walls. Together they make up a unique ensemble bearing witness to a time when East Germany was prepared to kill its own citizens rather than let them leave the country.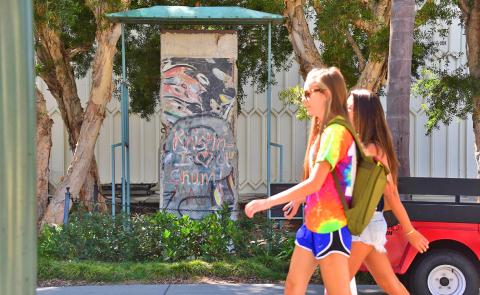 Students walk past a section of the Berlin Wall on display at Loyola Marymount University in Los Angeles, California, on Thursday.
Photo: AFP
After decades as a "no-man's land," the spot off Koepenicker Strasse has become prime real estate, where luxury housing with spectacular views of the Spree is going up amid a property boom. The city would like to clean up the area, but development could mean that at least part of the wall ensemble is ripped down.
Cultural historian Eberhard Elfert, 56, has founded a pressure group to save it called Luise Nord, named after a long-forgotten pre-World War II district called Luisenstadt.
"This year we will celebrate the fall of the wall in Berlin and there is a lot of money being spent to show where it stood," he told reporters. "And on the other hand, city planners want to tear down remnants of the wall to build a street. It makes no sense."
East Germany built the wall in August 1961 to halt an exodus of disgruntled citizens. It consisted of a complex barrier between East and West Germany and a concrete wall through the heart of Berlin dividing the communist and capitalist sectors. Both were patrolled by guards with shoot-to-kill orders.
The number of deaths is a subject of fierce debate and continued research, but at least 389 people lost their lives trying to escape East Germany. Several among the 138 victims who died in Berlin tried to escape through the contaminated Spree or other waterways.
This makes the ruins all the more crucial to understanding how East Germany "secured" the border, historians say.
Axel Klausmeier, head of the Berlin Wall Memorial Foundation, said the bunker was "extremely important and historically significant."
"It is the only one of its kind in central Berlin," he told reporters. "It shows that the border was not only made up of concrete and walls, but also of water in Berlin. And to preserve history, you need places to do it."
Klausmeier said that 37 million euros (US$47 million) in public money had been spent since 2006 to make the wall's path visible again after so much of the original structure was demolished.
"We are overrun by tourists and what do they want to see? The wall," he said.
Comments will be moderated. Keep comments relevant to the article. Remarks containing abusive and obscene language, personal attacks of any kind or promotion will be removed and the user banned. Final decision will be at the discretion of the Taipei Times.