N Korean TV acknowledges leader Kim's health problems
Young North Korean leader Kim Jong-un is suffering from "discomfort," state media has said in the first official acknowledgement of ill health after a prolonged period out of the public eye.
Kim, 31, who is frequently the centerpiece of the isolated country's propaganda, has not been photographed by state media since appearing at a concert with his wife on Sept. 3, fueling speculation he is suffering from bad health.
He had been seen walking with a limp since an event with key officials in July and in a pre-recorded documentary broadcast by state media on Thursday appeared to have difficulty walking.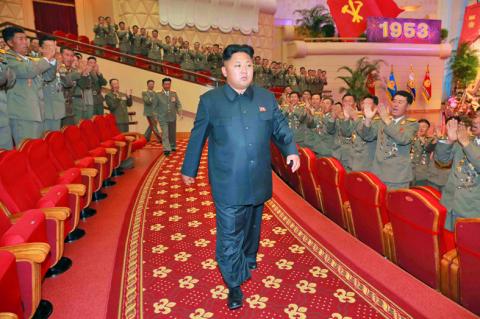 An undated file picture released by North Korea's official Korean Central News Agency on July 28 shows North Korean leader Kim Jong-un, center, with Korean People's Army service personnel, attending a performance given by the State Merited Chorus at the People's Theater in Pyongyang.
Photo: AFP
"The wealth and prosperity of our socialism is thanks to the painstaking efforts of our marshal, who keeps lighting the path for the people, like the flicker of a flame, despite suffering discomfort," a voice-over for the hour-long documentary said.
The documentary was followed by a pre-recorded broadcast of a North Korean Supreme People's Assembly meeting from which Kim was notably absent.
Kim has rapidly gained weight since coming to power after his father died of a heart attack in 2011, photos released by state media show.
North Korea observers speculate Kim's weight and family background may have contributed to his condition.
"Based on his gait, it appears he has gout — something [due to] diet and genetic predisposition that has affected other members of the Kim family," said Michael Madden, an expert on the North Korean leadership and contributor to the 38 North Web site.
Comments will be moderated. Keep comments relevant to the article. Remarks containing abusive and obscene language, personal attacks of any kind or promotion will be removed and the user banned. Final decision will be at the discretion of the Taipei Times.