Syrian Kurds fleeing IS cross into Turkey
DESPERATE FLIGHT: About 3,000 Kurdish Syrians made a dash for Turkey on Friday as Islamic State extremists captured their villages in an offensive that lasted days
Several thousand Syrians, most of them Kurds, crossed into Turkey on Friday to find refuge from Islamic State (IS) militants who have barreled through dozens of Kurdish villages in northern Syria in the past 48 hours.
The extremists' offensive on the Kobani area near the border with Turkey prompted the leader of Iraq's Kurdish region to urge the international community to intervene to save Syria's Kurds from the militant onslaught.
Together, the exodus to Turkey and appeal for help by an Iraqi leader show how the growing muscle of IS, formerly known as the Islamic State of Iraq and the Levant, and Islamic State of Iraq and al-Sham (ISIS), has transcended borders to become a regional problem.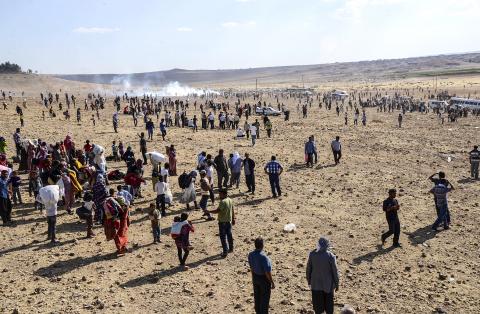 Syrian Kurds cross the border between Syria and Turkey near the southeastern town of Suruc in Sanliurfa Province, Turkey, on Friday.
Photo: AFP
The US began conducting airstrikes against Islamic State positions in Iraq last month to protect US facilities and personnel, as well as minority groups that have come under threat from the militants.
US President Barack Obama is now trying to line up an international coalition to destroy the extremist group. The White House's plan also includes training and support for mainstream rebels in Syria, as well as potential airstrikes against IS fighters in Syria.
In a statement posted on his Web site, Iraqi Kurdistan President Masoud Barzani said the Islamic State group's "barbaric and terrorist acts" on the Kobani area in northern Syria "threaten the whole entirety of the Kurdish nation and it has targeted the honor, dignity and existence of our people."
"The ISIS terrorists perpetrate crimes and tragedies wherever they are, therefore they have to be hit and defeated wherever they are," Barzani said.
By basing his appeal on humanitarian grounds, Barzani appeared to by trying to call for airstrikes similar to the ones the US military has conducted in Iraq against Islamic State fighters to help Kurdish security forces and protect religious minorities like the Yazidi community.
However, unlike their Iraqi brethren, Syria's Kurds have been left on their own in the fight against the group, and it is unclear whether the US would be willing to meet Barzani's request for airstrikes.
The main Kurdish force in Syria, known as the People's Protection Units (YPK), has been battling the Islamic State group for more than a year. However, the YPK is still viewed with suspicion by mainstream Syrian rebels and their Western supporters because of perceived links to Syrian President Bashar al-Assad's government.
NATO member Turkey is also wary of the group, which it believes is affiliated with the Kurdish Workers' Party movement that waged a long and bloody insurgency in southeast Turkey.
The Syrian Kurds who are now fleeing to Turkey are escaping an Islamic State onslaught that has captured more than 20 villages in the Kobani area since Wednesday, sending civilians streaming toward the frontier.
"Our house was destroyed. We have no family no property left. We have nothing now. Everything is gone," said Ibrahim Halil, a Syrian Kurd who had just arrived in the Turkish village of Dikmetas in Sanliurfa Province.
Halil was among about 3,000 people who entered Turkey on Friday.
Many of those who crossed the border had been waiting at the frontier for 24 hours after Turkey, which is already home to nearly 850,000 registered Syrian refugees, refused to let them in on Thursday.
However, on Friday, Turkey changed tack and decided to let them enter the country after reports emerged that militants were closing in on their communities, said Izzettin Kucuk, the governor of Turkey's Sanliurfa Province.
Turkish Prime Minister Ahmet Davutoglu said Ankara's priority is to help those in need on the Syrian side of the border, but "if that's not possible then of course they will be given help" inside Turkey.
Comments will be moderated. Keep comments relevant to the article. Remarks containing abusive and obscene language, personal attacks of any kind or promotion will be removed and the user banned. Final decision will be at the discretion of the Taipei Times.