Queen urges unity after Scottish vote
NOT AMUSED: The Scottish first minister said he would resign, while independence supporters were skeptical about British promises and tensions simmered in Glasgow
Scottish First Minister Alex Salmond said on Friday he would resign after losing an independence referendum that left the UK intact, while Queen Elizabeth II called for "mutual respect" among Scots following a divisive campaign.
Despite a surge in Scottish nationalist support in the final fortnight of the campaign, the anti-independence "no" camp secured a clear margin of 55.30 percent of the vote against 44.70 percent for the separatist "yes" side.
After a campaign that inspired other break-away movements, especially in Spain's Catalonia, and opened a Pandora's box of demands for more autonomy across the UK, turnout was 84.6 percent — the highest ever for an election in Britain.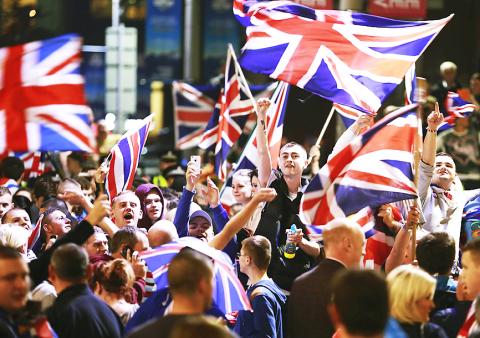 Pro-union protesters chant and wave Union Jacks during a demonstration at George Square in Glasgow, Scotland, on Friday.
Photo: Reuters
British Prime Minister David Cameron said he was "delighted" and added: "Now the debate has been settled for a generation."
US President Barack Obama said he hoped to continue his country's "strong and special relationship with all the people of Great Britain and Northern Ireland."
Salmond conceded defeat and said he would be stepping down from his post and from the leadership of his Scottish National Party (SNP) in November.
"For me as leader, my time is nearly over. But for Scotland the campaign continues and the dream shall never die," he said at a press conference in Edinburgh.
David Torrance, Salmond's biographer, said: "I can only assume he's tired and… that there's not really much he can do beyond this," adding that the Scottish leader will go down as "easily one of the most significant figures of the past 20 years" in British politics.
Many "yes" activists had watched the result in tears, although Salmond urged them to take heart from the huge number — 1.6 million — who backed independence.
The queen appealed for Scots on both sides to set aside their differences, saying: "Despite the range of views that have been expressed, we have in common an enduring love of Scotland."
"I have no doubt that the Scots, like others throughout the United Kingdom, are able to express strongly held opinions before coming together again in a spirit of mutual respect," said the queen, who is currently staying in her summer residence of Balmoral in northeast Scotland.
Despite her pleas, tensions simmered in central Glasgow as horse-mounted police were forced to separate hundreds of pro-union protesters and independence supporters in George Square.
Three people were arrested and roads around the square were closed as police dispersed the crowd, although smaller groups later amassed in other areas of the city center, chanting: "Rule Britannia," and letting off flares.
The result reassured many in the rest of Britain worried about the possibility of an impending break-up, including investors on the financial markets who pushed the pound to a two-year high against the euro as European stock markets rallied.
In response, ratings agency Moody's confirmed Britain's credit rating at "Aa1."
The British government must now deliver on promises made to give more powers over tax, spending and welfare to the devolved government in Edinburgh.
Cameron stood by the pledge on Friday, under which "Scotland gains almost everything except for full independence," said Emily St Denny, a politics professor at Stirling University.
In Edinburgh, independence supporters were skeptical about promises from the British government.
"I really, really hope it does, but I doubt it. I don't trust the Conservatives at all," said Laura-Beth Salter, 30, a musician and music teacher who voted "yes."
Salter said she thought Salmond's resignation was "a shame," but added: "It needs some young blood to keep it going."
Charlotte Darroch, one of many 16 and 17-year-olds who were allowed to vote in a British election for the first time, said the result of the vote was "just crushing, quite devastating."
However, "no" supporter Louise Fleming, 21, who also lives in the Scottish capital, said she was "relieved."
"We can't expect everything to be great tomorrow, but the right outcome has occurred," she said.
Comments will be moderated. Keep comments relevant to the article. Remarks containing abusive and obscene language, personal attacks of any kind or promotion will be removed and the user banned. Final decision will be at the discretion of the Taipei Times.