Drunken hunter fights off crocodile with an eye-poke
A tipsy goose hunter yesterday said he lived to tell the tale of being attacked by a 2m-long crocodile in northern Australia after poking the animal in the eye.
"We were shooting geese, my cousin-brother told me go and get the duck there," 20-year-old Stephen Moreen told the Australian Broadcasting Corp. "I got the first goose. The second one... the number three one, he grabbed me on my arm. [The croc did] the death roll. Lucky for me when [we] went underwater I saw him and poked his eye. He let go. Once he let go he ran for the bank. My cousin-brother shot him."
Moreen admitted he was "a little bit tipsy" and did not feel the pain when he was bitten on Friday evening near the remote community of Peppimenarti, 320km south-west of Darwin. He said he had some more beer while waiting for an ambulance to arrive.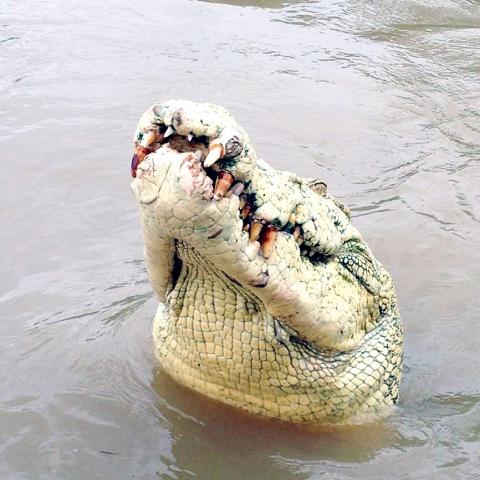 An undated picture shows the crocodile named Michael Jackson which was shot dead by rangers after it allegedly killed a man in the Adelaide River, Northern Territory, Australia, on Aug. 18.
Photo: EPA
"I wasn't too worried until I saw the scars," Moreen said. "It made me cry. I'm fine, I'm alive. It could have been bad. It could have got my leg. I was about waist deep [in water]. I have a scratch on my back, the rest on my arm. He ripped out a bit of skin and left me with two to three holes."
Crocodiles are common in the tropical north of Australia, where numbers have increased since the introduction of protection laws in 1971, with government estimates putting the population at 75,000 to 100,000.
Last month the authorities shot a crocodile believed to have eaten a 57-year-old fisherman on the Adelaide River in the north. Also last month a 22-year-old man disappeared near a beach in the Northern Territory's Melville Island, feared to have been taken by a crocodile.
In June, a crocodile snatched a man from his boat in the north's Kakadu national park, while in January a 12-year-old boy was killed by a crocodile there.
Comments will be moderated. Keep comments relevant to the article. Remarks containing abusive and obscene language, personal attacks of any kind or promotion will be removed and the user banned. Final decision will be at the discretion of the Taipei Times.