Bangladesh's Zia loses graft charges battle
'NO JUSTICE': A High Court decision cleared the way for the opposition leader to stand trial on charges she calls politically motivated and which could jail her for life
Bangladesh's highest court yesterday rejected appeals by opposition leader Khaleda Zia, clearing the way for her to stand trial on embezzlement charges that could see her jailed for life.
Zia, a two-time former prime minister and leader of the Bangladesh Nationalist Party (BNP), went to the Bangladeshi Supreme Court seeking suspension of the proceedings, saying the lower court judge who has been hearing her cases was appointed illegally.
However, a Supreme Court bench headed by chief justice Md. Muzammel Hossain dismissed her appeals, allowing the trials to go ahead in a special court that deals with graft cases, her lawyer Sanaullah Miah said.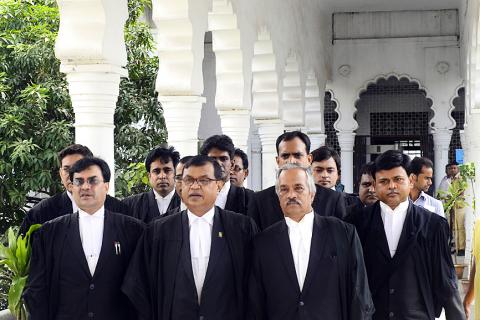 Lawyers of former Bangladeshi prime minister and Bangladesh Nationalist Party leader Khaleda Zia leave the High Court in Dhaka, Bangladesh, yesterday.
Photo: AFP
"We have not got justice," Miah said, adding that Zia's trials in the graft court could still be delayed as the Supreme Court has not yet disposed of two more appeals against the charges.
Earlier, the high court rejected similar appeals by Zia, prompting her lawyers to move to the highest court in a last-ditch attempt to stop the trials.
Prosecutors have accused Zia's lawyers of time-wasting, saying proceedings have been delayed dozens of times in the case.
Zia and three of her aides are accused of siphoning off 31.5 million taka (US$408,400) from a charitable trust named after her late husband Ziaur Rahman, a former president who was assassinated in 1981.
She is also accused of leading a group of five people, including her eldest son, in embezzling 21.5 million taka meant for an orphanage set up in memory of her late husband.
Zia, who has been excused from attending the trial, has called the charges politically motivated, aimed at destroying the BNP, which has vowed to topple the government of Bangladeshi Prime Minister Sheikh Hasina.
Comments will be moderated. Keep comments relevant to the article. Remarks containing abusive and obscene language, personal attacks of any kind or promotion will be removed and the user banned. Final decision will be at the discretion of the Taipei Times.