China jails Briton, wife linked to GSK
OPAQUE OPENNESS: A Shanghai court sentenced each to at least two years in a trial that was shared with foreign journalists through updates on a microblog
A British investigator once hired by scandal-hit pharmaceutical giant GlaxoSmithKline (GSK) in China was sentenced to two-and-a-half years in jail for breaching privacy laws, a Shanghai court said on Friday.
Peter Humphrey and his wife, Yu Yingzeng (虞英曾), a US citizen, were hired to investigate the source of a lurid sex tape of the China boss of GSK, shortly before the British firm became embroiled in bribery allegations.
"Defendant Peter William Humphrey, who had committed the crime of illegally obtaining citizens' personal information, was sentenced by the court to two years and six months in jail, with a fine of 200,000 yuan [US$32,000] and will be expelled from the country," a Chinese court official said, adding that Yu would also be jailed.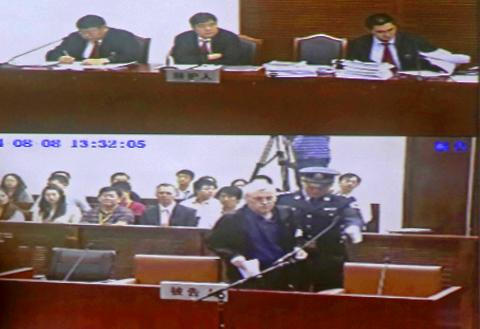 An internal court video shows British investigator Peter Humphrey, third right, at bottom, arriving at a courtroom after a lunch break during his trial at the No. 1 People's Intermediate Court in Shanghai on Friday.
Photo: Reuters
"Both Humphrey and Yu Yingzeng said they regretted their actions and expressed their apologies when making their final statements," a court spokesperson added.
GSK is the most high-profile target of wide-ranging Chinese inquiries into foreign pharmaceutical firms, as Beijing also mounts probes into overseas companies in sectors ranging from cars to baby milk.
At no point did prosecutors mention the British firm when questioning Humphrey or Yu on Friday, according to transcripts posted online by the court.
The couple's son, Harvey Humphrey, told reporters that he was "very sad" about the verdict.
"I did not expect the sentence to be that long. I thought they would be jailed, but I did not expect it would be for that long," he said.
He also said that he hoped "the authorities will take into account my parent's poor health conditions," without giving details.
Chinese prosecutors accused the couple of illegally obtaining more than 200 pieces of information on Chinese individuals, which they resold to clients.
"Generally speaking... I don't dispute [the prosecutor's indictment]," Humphrey told the No. 1 People's Intermediate Court in Shanghai, it said on a verified microblog account.
It posted a picture of Humphrey facing a judge wearing a dark suit, while Yu wore a red jacket, each of them with an arm gripped by a uniformed officer.
Foreign media were not allowed into the courtroom.
The sentence was announced late in the evening after a trial that lasted almost 12 hours. Yu's jail term was two years and she was fined 150,000 yuan.
The spokeswoman also said that the two did not appeal in court.
"We sold consulting services, which sometimes included personal information," Humphrey said according to the court, adding that he was unclear about the relevant laws and details of particular cases.
"We asked other companies to help us to obtain people's household registration information and we would pay a fee" for the service, he said.
He denied an accusation that he had "tailed" clients, but said he may have sent staff to "stand outside" an office to monitor it.
"The services we supplied aim at reducing risks, especially risks in regard to fraud and corruption," he added.
Yu said she had "no dispute with the evidence provided by the prosecution," but denied that she had sold personal data to other firms.
"We gathered information not so we could sell it, but so we could write reports," she said, adding that household registration data was obtained to check on corruption.
The case has raised concerns among foreign investors in China, who often hire investigators to conduct due-diligence investigations into Chinese companies.
Chinese courts have a near-perfect conviction rate in criminal cases — 99.93 percent last year.
China is investigating several foreign pharmaceutical firms over pricing and other issues.
GSK stands accused of systemic corruption, and in May its former China manager Mark Reilly was charged with ordering employees to bribe hospitals, doctors and health institutions to gain billions of dollars in revenue.
China's healthcare sector is widely considered to be riddled with graft, partly the result of an opaque tendering system for drugs and doctors' low salaries.
Humphrey, a former journalist and longtime China resident who founded the ChinaWhys investigative firm, was reportedly hired by GSK to look into the origin of a video of Reilly and a girlfriend.
Humphrey's wife worked as ChinaWhys' general manager.
The duo have been paraded in prison suits by state broadcaster China Central Television, which earlier aired a televised "confession" by an unshaven Humphrey.
China had said the trial would be secret, but the Shanghai court said last month it would hold "open" proceedings.
In practice, that meant delayed trial transcripts being posted on the microblog, which was shown on a screen to reporters in a separate room in the court building.
Comments will be moderated. Keep comments relevant to the article. Remarks containing abusive and obscene language, personal attacks of any kind or promotion will be removed and the user banned. Final decision will be at the discretion of the Taipei Times.