Liberia closes borders to halt Ebola
RESTRICTIONS: The Liberia Airport Authority said it would strictly inspect and test all passengers, and the government banned public gatherings, including demonstrations
Liberian President Ellen Johnson Sirleaf has announced the closure of most of the Ebola-hit country's land borders after the deadly tropical virus spread to two of West Africa's largest cities.
Liberia, along with neighboring Guinea and Sierra Leone, is struggling to contain an epidemic that has infected about 1,200 people and left at least 670 dead across the region since the start of the year.
Last week authorities in Sierra Leone's capital, Freetown, and Lagos in Nigeria announced their first cases, marking an alarming new front in the fight against a disease mainly confined to remote villages and rural outposts.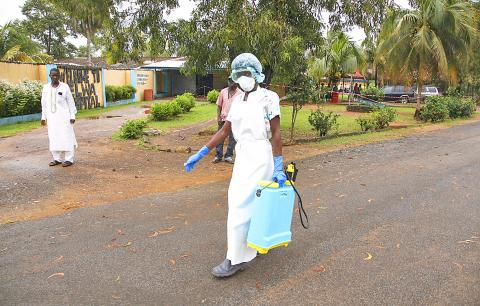 A nurse carries disinfectant to the waiting area for visitors at the ELWA Hospital in Monrovia, Liberia, on Monday.
Photo: EPA
"All borders of Liberia will be closed with the exception of major entry points," Sirleaf said in a statement late on Sunday.
Monrovia's international airport, a provincial airport and three major crossings were exempted from the closures.
"At these entry points, preventive and testing centers will be established," she said.
Liberia has seen 129 deaths from Ebola, which causes severe fever and muscle pain, vomiting, diarrhoea and, in the worst cases, organ failure and unstoppable bleeding.
"A new travel policy by the Liberia Airport Authority covering inspection and testing of all outgoing and incoming passengers will be strictly observed," Sirleaf said in the statement.
The government also banned public gatherings of any kind, including events and demonstrations, and announced quarantines of Ebola-hit communities.
Ebola, which first emerged in 1976, is believed to be carried by animals hunted for meat, notably bats. It spreads among humans via bodily fluids and has killed 56 percent of those it has infected in the current outbreak.
A 32-year-old trainee hairdresser, the first confirmed case of Ebola in Freetown, died on Saturday after her parents forcibly took her from hospital, according to the Sierra Leonean Ministry of Health.
Saudatu Koroma's house in the east of Freetown has been quarantined with the other residents for 21 days but Sierra Leoneans across the city voiced fears that the virus might already have spread.
"People are now extremely cautious of how they attend parties and other social functions, although funerals are still largely being attended," social analyst Ronald Cole told reporters.
People in the streets had stopped shaking hands, a correspondent in Freetown said, preferring to proffer elbows as a greeting.
"We should now be bowing like the Chinese," civil rights activist Ronnie Charles said.
Social groups canceled public events to celebrate the end of the Islamic holy month of Ramadan while restaurants installed buckets of bleached water for customers to wash their hands before taking their seats.
The dead are also being handled with care.
"We are jittery over Ebola. We have given lots of gloves to our workers as a protection to handle corpses," said the owner of a downtown funeral parlor.
Regular public health messages blared out from radios and television sets instructing people how to guard against infection.
Meanwhile the Sierra Leonean Ministry of Health, which has seen 224 deaths from Ebola, announced it had set up an "emergency operation center" in the capital, coordinated by the WHO.
Freetown's first Ebola case comes after the virus was confirmed to have reached Nigeria's financial capital Lagos, a regional and international transport hub and a base for many foreign multinationals with offices in Africa's largest economy.
A 40-year-old Liberian man died at a private clinic from the disease, after collapsing at Lagos international airport, the Nigerian Ministry of Health said on Friday.
With a historic death rate of 67 percent before the current outbreak and no vaccine, patients believed to have caught the Ebola virus must be isolated to prevent further contagion, the WHO said.
The agency urged people showing the first signs of the virus to go immediately to health centers.
"We must stop the message that there is no treatment. The faster patients seek treatment in secure health centers, the more likely they are to recover and avoid contaminating family members," WHO spokesman Tarik Jasarevic said. "The WHO strategy is to attack the epidemic at its source, to find people who are sick in the villages, and take care of them in the isolation units."
Jasarevic said "safe burial" of bodies was an important part of the response to the epidemic, adding that family members were touching the body during funeral rituals and getting infected.
Comments will be moderated. Keep comments relevant to the article. Remarks containing abusive and obscene language, personal attacks of any kind or promotion will be removed and the user banned. Final decision will be at the discretion of the Taipei Times.