Rammasun's death toll in Philippines rises to 94
COUNTING THE COST: Falling trees and debris were blamed for most of the Philippine deaths. Meanwhile, at least 18 people have been killed by the storm in China
The death toll from Typhoon Rammasun in the Philippines rose to 94 — with six missing — as another storm brought rains to the ravaged areas, authorities said yesterday.
The reports of fatalities came in as repairmen struggled to restore electricity to hundreds of thousands of households who have been without power since the storm hit last week.
"The majority of the fatalities are from falling debris and trees while many of the missing are from boats that went out to sea," despite the storm, National Disaster Risk Reduction and Management Council spokeswoman Mina Marasigan said.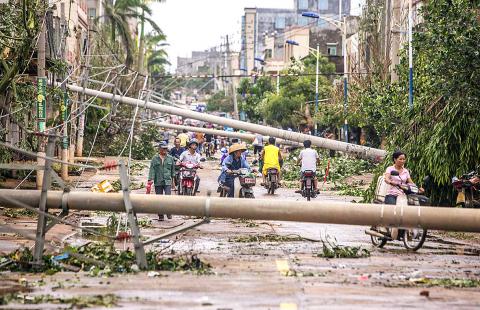 Residents travel on a street blocked by fallen electricity poles after Typhoon Rammasun hit Leizhou in China's Guangdong Province on Saturday.
Photo: Reuters
The typhoon has since blown to southern China, but a new storm, named Matmo, was packing gusts of 150kph and worsening rainfall in places affected by Rammasun, she said.
Manila Electric Co, the country's largest power distributor, said more than 400,000 homes in the Manila area were still experiencing outages since the first typhoon of the year hit on Wednesday.
There were no immediate reports of damage from Typhoon Matmo, which is expected to pass over the northern end of the main Philippine island of Luzon tomorrow, the government weather station said.
CHINA
Meanwhile, Rammasun, the strongest typhoon to hit southern China in four decades has killed 18 people, the government said yesterday.
The typhoon killed nine people and left five missing after hitting Hainan Island on Friday, the Chinese Ministry of Civil Affairs said in a statement.
Nine others died later in the Guangxi region as the storm plowed into China on its way north to Vietnam.
The typhoon is the strongest to hit southern China in 41 years, according to the China Meteorological Administration.
Wind speeds reached 216kph, with the storm knocking down power lines and damaging buildings, Xinhua said.
Authorities in southern China ordered the highest level of alert — red — on Saturday and suspended hundreds of buses, trains and flights across the region.
Television pictures yesterday showed waterlogged roads and heavy rain in Yunnan Province. Online pictures showed uprooted trees, destroyed crops and deserted, rain-soaked streets across much of southern China.
The storm has since been downgraded "as it is abating and affecting fewer Chinese localities," Xinhua said.
All the airports on Hainan had reopened yesterday, as ferry, rail and bus services resumed, it said.
Meanwhile, China's National Meteorological Centre was warning that downpours triggered by the typhoon were expected in northern parts of China in the coming days.
Additional reporting by AP
Comments will be moderated. Keep comments relevant to the article. Remarks containing abusive and obscene language, personal attacks of any kind or promotion will be removed and the user banned. Final decision will be at the discretion of the Taipei Times.