Indonesia finds anxiety after inconclusive ballot
Indonesia faces a long period of uncertainty after last week's disputed presidential election, analysts have said — raising fears for Southeast Asia's top economy as growth sits at four-year lows, foreign investment slows and corruption remains rife.
After a bitterly fought campaign, Jakarta Governor Joko "Jokowi" Widodo and his rival, former Indonesian National Armed Forces lieutenant general Prabowo Subianto, both used different unofficial tallies to claim they had won on Wednesday.
Most credible counts showed Jokowi in the lead, sparking a rally in stocks and the rupiah on Thursday on the expectation that he would be declared the winner when official results are announced later this month.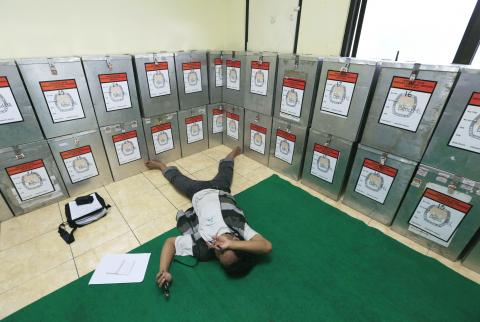 A man takes a rest near ballot boxes at Bendungan Hilir in Jakarta, Indonesia, on Thursday.
Photo: Reuters
However, the initial euphoria quickly wore off. The Jakarta stock market slumped as much as 2 percent the following day and was 1.3 percent down at the close on Friday, as investors grew nervous about the potential for a prolonged deadlock.
"Given the conspicuous absence of a concession, the market still cannot rid itself of the specter of draggy uncertainty for a while more," economist Wellian Wiranto said, from Singapore's OCBC Bank.
Investors favor Jokowi, as he is seen as a potential reformer and a clean leader in one of the world's most corrupt countries.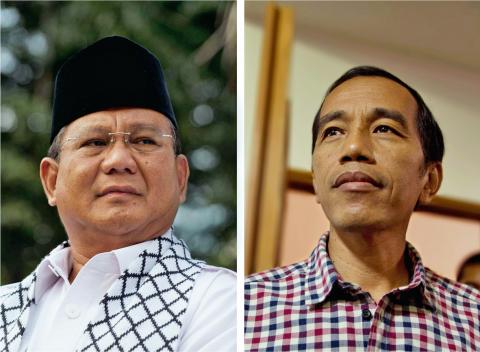 This combination image shows Indonesian presidential candidates Prabowo Subianto, left, on Friday, and Joko "Jokowi" Widodo on Wednesday, both in Jakarta.
Photo: AFP
Prabowo, a top military figure in the era of former Indonesian president Suharto, has struck a fiercely nationalistic tone on the campaign trail, and is viewed warily by markets.
The election commission is expected to announce the official results on July 22, but the loser may contest them in the Indonesian Constitutional Court, which would have until the end of August to make a ruling.
It is not a good time for Indonesia to be hit by uncertainty that could scare off investors, as it undergoes a painful transition from a decade of rapid growth fueled by high global prices for its abundant commodities.
Falling commodity prices, as well as a series of protectionist policies, have hit the economy, which expanded at 5.21 percent in the first quarter — its slowest pace since late 2009.
Foreign investment has also slowed steeply, with investors wary of the uncertain business environment. Corruption, seen as a major obstacle to operating in Indonesia, remains rampant.
The political uncertainty caused by the election deadlock can only add to the gloomy picture, observers warn.
The Jakarta Post newspaper, which has backed Jokowi, said in an editorial that taking the battle all the way to the Constitutional Court "would prolong the political stalemate and uncertainty until late August."
"The prospect of violence would dramatically increase, unless leaders of political parties work to control their bases of support. The market would roil in response to these destabilizing developments," it said.
The nation was rocked by violence before the downfall of Suharto in 1998 following his three-decade dictatorship, with many killed in the capital, Jakarta, during rioting and looting.
Indonesia has enjoyed a decade of relative peace and stability under the administration of President Susilo Bambang Yudhoyono, helping to transform it into one of the world's fastest-growing economies and a major investment destination.
However, fears are growing that the rising political tensions could spark fresh unrest and Yudhoyono has called on both sides to restrain their supporters.
Analysts say that the uncertainty could also hit domestic demand in the rapidly growing middle class, a key driver of growth in recent years.
"A disputed result will not just have market implications, but also likely a dampening impact on sentiment," Australia's ANZ Bank said in a note. "A Jokowi presidency is likely to be aligned with more optimistic consumers, whereas a Prabowo challenge could dampen sentiment and spending."
Investors are hopeful for a quick end to the stalemate with Jokowi being declared the official winner later this month and Prabowo graciously conceding defeat.
However, it is still far from clear how the crisis will play out and most analysts think that it is likely that Prabowo — who has been seeking the presidency for the past decade — will challenge the result in court if he loses.
"As much as the market is hopeful that the political drama has ended, we note that there are still alternative final episode scripts that cannot be totally ruled out," Wiranto said.
Comments will be moderated. Keep comments relevant to the article. Remarks containing abusive and obscene language, personal attacks of any kind or promotion will be removed and the user banned. Final decision will be at the discretion of the Taipei Times.