FEATURE: Malaysia keeps a centuries-old tradition spinning
In one fluid motion, Amri Aziz flings his oversized spinning top into the air and with a whip-like crack of rope sends it whirling for the next two hours.
That is when the tea is poured.
In a time-worn tradition, contestants and spectators settle down in Malaysia's Kelantan state to see whose meticulously hand-crafted top spins the longest in the centuries-old, slow-burn contest of "gasing uri".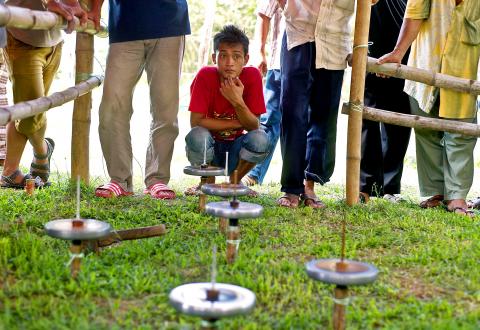 Amri Aziz watches his gasing during a local contest in Pasir Puteh, Malaysia, on June 7.
Photo: AFP
Locals in the conservative Muslim heartland of the country's rural east coast cheekily call the decades-old interstate contest, held monthly with neighboring Terengganu, their "World Cup."
"In the olden days, this kind of game was very, very popular — like playing soccer is today," Kelantan Gasing Uri Association secretary Nazife Ismail said.
However, though many here still live in wooden huts, modern distractions like the Internet, video games and satellite broadcasts of European soccer games have penetrated.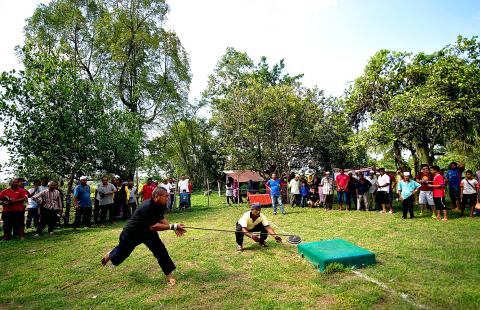 Locals spin their gasing during a local contest in Pasir Puteh, Malaysia, on June 7.
Photo: AFP
That makes gasing uri a difficult sell for an impatient new generation, whose interest is vital to keeping the unique tradition alive.
Today few take up the sport, which requires at least five years' training before one is considered ready for contests, in which local pride is the only reward.
"I got into it because my father and uncle taught me, but I keep on playing because when there are fewer players like today, you have a better chance to shine," Amri said.
The 22-year-old, whose disc of wood and tin weighs 4kg, boasts bulging muscles developed by years of training with the ponderous tops, which typically measure 20cm across.
Despite its uneventful nature, the contest begins with an amazing feat of dexterity.
After the spinner launches his gasing (top), a "scooper" catches the plate-shaped object on a small wooden paddle just centimeters wide.
"Scooping is the most difficult job. It's like football, the goalie is the most important," said Hussain Mohamad, who has been spinning for more than four decades.
Top-spinning — which developed in cultures worldwide — took hold in Malay society centuries ago as a way for men to pass the suddenly ample time available after the rice harvest.
Under age-old, pre-Islamic Malay animist beliefs, individual gasing were said to inherit the nature of trees they were made from. Other forms of gasing contests exist — including "gasing pangkah," where contestants smash their bulky, spinning tops against others, trying to topple them.
"If I can't play, I will lose my zest for life. Never mind work, we have to do this for one day a month from 10am to 6pm," Hussain said.
About 30 contestants per side took part in the latest instalment of the interstate gasing uri rivalry, watched by about 100 mostly older male spectators, some in skullcaps and Muslim robes, who sipped tea on a patch of grass in the tropical heat.
In the past, local shamans would first call upon spirits to guide the gasing.
However, amid deepening Islamic conservativism in rural Malaysia over the past three decades, that is now frowned upon.
Today, flowers are first placed atop the gasing by an Islamic teacher, who then offers a prayer of blessing, "not to invoke the spirits, but to give us a kind of confidence that our top will be the winner," Nazife said.
Craftsmanship is a point of pride and considered key to ensuring a lengthy spin. Today, most gasing start with a carved wooden center. A heavy rim is added by pouring molten tin into a mold around the wood, as the extra weight prolongs spin.
They are then spun on a foot-propelled wheel and chiseled down to an immaculate smoothness, a process that takes at least two days. Tops have gotten smaller to reduce surface area and thus air friction. Decoration — which increases friction — is eschewed.
After two hours, a Kelantan top was the last one standing. Subdued backslapping and handshaking marked the victory.
A century ago, every village had a gasing uri team, but they are rare now.
The Kelantan Gasing Uri Association is now looking beyond the state's borders to try to ensure the longevity of the sport.
In the past couple of years it has held demonstrations, complete with full Kelantanese traditional costumes, elsewhere in Malaysia and abroad, including Dubai, England and Scotland.
"It will not go extinct as there is a continuity to the new generation. It will make a return to its heyday," Thai Cultural and Art Department state director Che Kasim Mahmud said.
Comments will be moderated. Keep comments relevant to the article. Remarks containing abusive and obscene language, personal attacks of any kind or promotion will be removed and the user banned. Final decision will be at the discretion of the Taipei Times.