The Spanish Inquisition, dead parrot returning to London for a 10-show run
NOT DEAD YET: The last hurrah of the remaining members of the beloved Monty Python on July 20 will be screened in 2,000 movie theaters and on TV
When the surviving members of Monty Python deliver their final performance in three weeks' time the show will be a global event, broadcast live to more than 2,000 movie theaters and on TV screens in more than 100 countries from Afghanistan to Yemen.
The five Pythons held a press conference in London on Monday to give more details of their shows at London's O2.
Opening night was last night and was expected to be a cross between theater and rock concert with dancers and a full orchestra.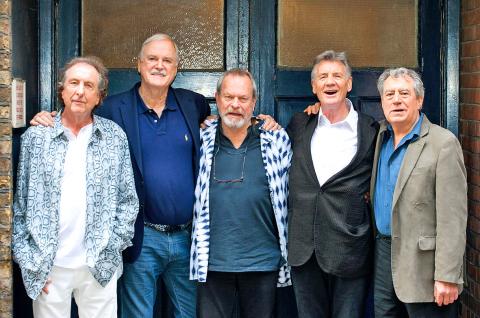 From left, Monty Python members Eric Idle, John Cleese, Terry Gilliam, Michael Palin and Terry Jones pose during a media event in London, England, on Monday.
Photo: EPA
"It is a world event and that's really quite exciting," said Eric Idle, the show's driving force. "It means we're actually going to say goodbye publicly on one show. Nobody ever has the chance to do that, the Beatles didn't get a last good night."
The remaining Pythons — who after the death of Graham Chapman in 1989 are Idle, Terry Jones, Michael Palin, John Cleese and Terry Gilliam — have never denied that they are doing it for the money, but they are also doing it for enjoyment and for the fans, they said.
However, "the one on the 20th really is the last show and I think we all feel very content with that. We weren't sure at one stage, I certainly felt it might be fun to go and do America, but the more I thought about it, I thought: 'I don't really want to.' It's much better to try and do it once really well in England, where it started, and let's leave it at that," Cleese said.
There will not be new material — "It would be folly to try and write better things than are there," said Idle — but sketches will be reimagined and there will be surprise guests.
Audiences should also expect the Spanish Inquisition, a dead parrot and Cleese dragging up as Anne Elk who has a theory on brontosauruses.
Also announced on Monday was the first official Monty Python fan club — 45 years after the group's first appearance on the BBC. Called Monty Python's SPAM Club, it was self-labelled "what may the worst-run fan club in the world."
For diehard fans, the 1989 album Monty Python Sings was also reissued along with a new box set of their nine UK albums under the title Monty Python's Total Rubbish: The Complete Collection.
In terms of the last night, the figures are striking. There will be live screenings at 570 UK and Irish movie theaters and 1,800 more in 39 countries across the world. Deals have also been struck with TV channels for it to be broadcast live in more than 100 countries.
However, none of the five have any intention of retiring soon and regularly used the press conference to plug their other ventures.
There seems little hope though for Cleese's project, which he pitched to ITV boss Peter Fincham — "a series about what religion would be if the churches had not fucked it up."
Fincham's eyes glazed over, Cleese said.
Comments will be moderated. Keep comments relevant to the article. Remarks containing abusive and obscene language, personal attacks of any kind or promotion will be removed and the user banned. Final decision will be at the discretion of the Taipei Times.