Beijing emitters ignore carbon scheme: reports
More than a quarter of all companies covered by Beijing's municipal carbon laws ignored a key reporting deadline, media in the city reported yesterday, with some powerful companies questioning a local government trading body's authority to regulate them.
Beijing's carbon-trading market, one of six set up in China to rein in rapidly growing greenhouse gas emissions, limits carbon dioxide emissions from almost 500 local enterprises.
Most of them must hand over permits to the government to cover for their emissions, while some must only report their CO2 levels.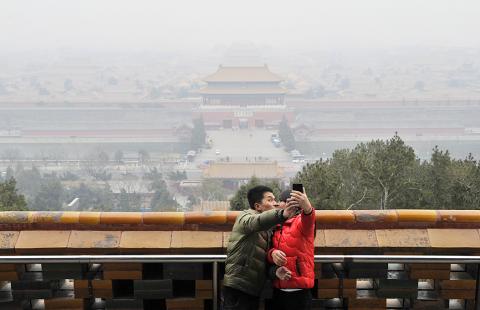 A couple kiss as they take a picture of themselves in front of the Forbidden City through thick haze on top of Jingshan Park in Beijing on March 3.
Photo: Reuters
However, 140 of them missed an April deadline to submit a verified report of their emissions from last year, which is key to determining how many permits each firm must hand over to the government to cover for CO2 output, Beijing papers said yesterday.
Some of the firms implied that Beijing's Development and Reform Commission (DRC), which operates the scheme, did not have the authority to issue orders.
"It ends up like this because they do not follow our rules and the document shown to us does not fit the requirements," Zhou Jiancheng (周建成), vice director of planning and statistics at the Beijing Railway Bureau, one of the firms that failed to submit the report, told newspaper Beijing Youth Daily.
He said the company would have to see a "red-header document" before they would submit the emissions report.
In China, a "red-header document" normally refers to orders issued by the highest levels of government, whose name would be printed in red on the letterhead.
By saying it has not received such a document, the Beijing Railway Bureau indicated it did not consider the scheme rules issued by the DRC as authoritative enough to pay attention to.
The Beijing DRC was not immediately available for comment.
The Beijing Railway Bureau operates most of the railway system in Beijing, Tianjin and Hebei Province, and is owned by the China Railway Corp, making its CEO far more powerful than the head of the Beijing DRC.
It is unclear whether it is obliged to surrender permits under the scheme or if it only must report its emissions, as the DRC has not published a list of scheme participants.
State-owned enterprises (SOEs) routinely ignore environmental regulations issued by local governments, one of the main reasons why China is struggling to cut soaring pollution levels despite issuing a raft of environmental policies in the last couple of years.
A new law mandates all companies to follow environmental regulations regardless of the authority level, but that does not enter into force until next year. It remains to be seen how successful it will be.
"They [SOEs] are not just businesses; many have administrative status higher than local governments. It is quite difficult to manage and has not been completely resolved yet," Institute of Public and Environmental Affairs director Ma Jun (馬軍) told reporters.
Beijing, where companies must hand over permits to the government to cover for last year's emissions by tomorrow, is only the latest of several local governments struggling to enforce its carbon scheme.
Guangdong Province and the cities of Shenzhen and Tianjin have also found it difficult to persuade local firms to follow the rules.
The regional trading markets are intended as a pilot phase before a national market begins later in the decade.
Sun Cuihua (孫翠華), deputy director of the climate change department in the National Development and Reform Commission said earlier this month the national market is to begin in 2016 or 2017, but that it would not be fully operational until 2020.
Comments will be moderated. Keep comments relevant to the article. Remarks containing abusive and obscene language, personal attacks of any kind or promotion will be removed and the user banned. Final decision will be at the discretion of the Taipei Times.