Argentine VP faces inquiry in alleged abuse of power
Argentina's vice president was ordered on Friday to answer allegations that he abused his power to gain control of the company that prints the nation's currency.
Argentine Federal Judge Ariel Lijo ruled there is enough evidence to merit formally questioning Argentine Vice President Amado Boudou about his role in the case, in which secret partners and shell companies allegedly benefited from tax exemptions and lucrative government contracts after buying the bankrupt Ciccone Calcografica printing company at a cut-rate price.
The printer, renamed the Compania de Valores Sudamericana, also produced campaign material during Argentine President Cristina Fernandez's run-up to her 2011 re-election with Boudou.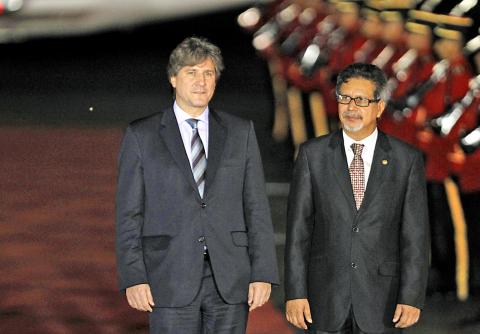 Argentine Vice President Amado Boudou, left, poses with Salvadorean Vice Chancellor Carlos Castaneda at San Salvador International Airport in San Salvador on Friday.
Photo: Reuters
Boudou is the first sitting Argentine vice president since the nation emerged from military dictatorship in 1983 to be ordered to stand for questioning in criminal court, constitutional experts said on Friday.
Boudou dismissed calls by political opponents for his resignation, insisting he is not guilty.
"I swear, I sustain and I will demonstrate that I did not commit acts of corruption," he said.
"I'm very calm," Boudou added in one of several interviews with local radio programs after the judge's resolution was announced. "This is an important step, because I'm going to prove my innocence."
After Boudou is questioned next month, the judge could either dismiss the case or proceed with formal criminal charges that could carry up to six years in prison and a lifetime ban from elective office.
An Argentine federal prosecutor told the judge that evidence supports allegations of influence trafficking against Boudou, who is suspected of using his power as economy minister in 2010 to smooth the printing company's exit from bankruptcy.
Members of the Ciccone family, among others, said Boudou was personally involved in negotiations that persuaded them to sell to The Old Fund, described as a shell company. Boudou denied having any link to the purchaser.
The judge agreed that evidence suggests Boudou participated in a scheme to profit from the currency contract by using shell companies and intermediaries.
The Argentine probe followed investigations by the nation's La Nacion and Clarin newspapers, among others, which documented connections between Boudou and The Old Fund.
Argentine Cabinet Chief Jorge Capitanich dismissed the probe as politically motivated, saying that the judge scheduled the hearing for July 15. The date coincides with a possible trip by Fernandez to an economic conference in Brazil when Boudou would be named acting president.
Capitanich, however, said the government respects the authority of the court and praised the vice president's willingness to cooperate.
Comments will be moderated. Keep comments relevant to the article. Remarks containing abusive and obscene language, personal attacks of any kind or promotion will be removed and the user banned. Final decision will be at the discretion of the Taipei Times.