Canine thriller stars fetch Cannes 'Palm Dog' award
The competition was fierce, but Luke and Body's remarkable acting range in the film White God won the jury over in Cannes on Friday as they awarded the two mongrels the "Palm Dog" for canine talent.
The two golden-furred brothers shared the role of Hagen in the latest movie by Hungarian director Kornel Mundruczo — a strange, dystopian canine thriller that had critics intrigued.
Describing the film as "The Expendables for dogs," Kate Muir, chief film critic at London's the Times, revealed the winner of the unofficial Palm Dog at a pooch-studded ceremony attendeds by former Bond girl Imogen Diamond and her dog, James Blond.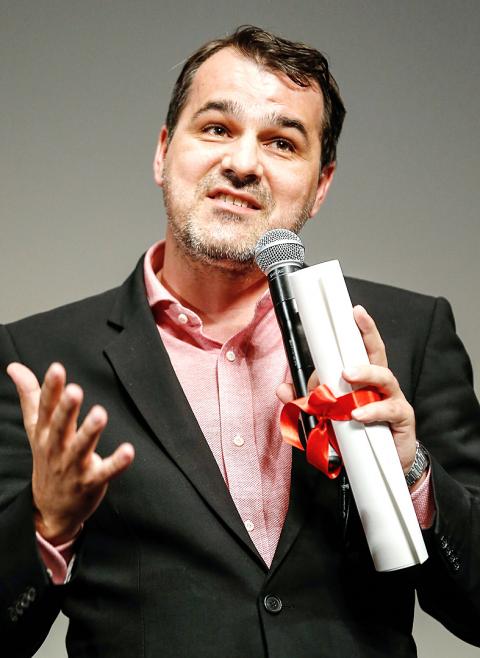 Hungarian director Kornel Mundruczo speaks after receiving the top prize for his movie White God at the 67th annual Cannes Film Festival, in Cannes, France on Friday.
Photo: EPA
Receiving the red, white and blue toy bone on behalf of Luke and Body — who unfortunately could not be there — Mundruczo said it had been a pleasure to work with the two mongrels, who are young newcomers to the movie industry.
"It was really great to watch how these two races can cooperate," he said after the opener of White God was broadcast on a screen, showing a girl on a bicycle being chased by a pack of wild dogs on a deserted street in Budapest.
Later on Friday, White God took top honors in the Un Certain Regard section of the festival, which seeks to recognize new talent and encourage innovative, daring work.
In the story, Luke and Body's character Hagen is dragged through heartbreak and violence after being abandoned on the side of a highway, before toughing up and exacting his revenge on human beings with the help of fellow wronged mutts.
The alternative Palm Dog award has become something of an institution at the festival, presented annually with a touch of humor by a panel of prominent film critics.
This year, Luke and Body's star turn in White God capped a festival that has seen several remarkable performances by man's best friend.
"Every year, I am sorry to say, I receive what I can only describe as joshing from the French journalist community: 'Oh you Anglo-Saxon eccentrics, you and your dogs,'" said Guardian film critic Peter Bradshaw, a member of the Palm Dog jury. "Well, I can only say that nobody can doubt the importance of dogs this year at Cannes."
In other canine star moments at the festival, film legend Jean-Luc Godard cast his own dog as Roxy in his incomprehensible, 3D Palme d'Or contender Goodbye to Language.
Roxy makes frequent appearances in the film barking, playing in snow, lying on a sofa or whining, providing some serenity in an otherwise frenetic patchwork of vivid scenes and philosophical musings.
And in Bertrand Bonello's Saint Laurent, the bravura performance of a bulldog playing the beloved Moujik of late fashion designer Yves Saint Laurent had viewers raving.
In the film, Moujik suffers a tragic death when the dog vacuums up a load of pills that his drug-addicted master accidentally spilled on the floor.
However, White Dog won the day, and while Luke and Body were rewarded for their acting, Mundruczo gave a special mention to the rest of the cast: some 250 street dogs... and a few humans too.
Previous winners of the Palm Dog include a white poodle who played the part of a blind pet owned by Liberace as well as terriers Smurf and Ged, which featured in British black comedy Sightseers.
Comments will be moderated. Keep comments relevant to the article. Remarks containing abusive and obscene language, personal attacks of any kind or promotion will be removed and the user banned. Final decision will be at the discretion of the Taipei Times.