Woman found 10 years after kidnapping: police
A woman who disappeared as a teenager a decade ago was reunited with her family after she went to police and told them her mother's ex-boyfriend drugged and kidnapped her in 2004, forced her to marry him and fathered her child.
Isidro Garcia, 41, was arrested on suspicion of kidnapping for rape, lewd acts with a minor and false imprisonment, the Santa Ana police department police said.
Police described a decade during which the victim — abused mentally, physically and sexually by her captor — was moved at least four times and given multiple fake identities to hide her from family and authorities.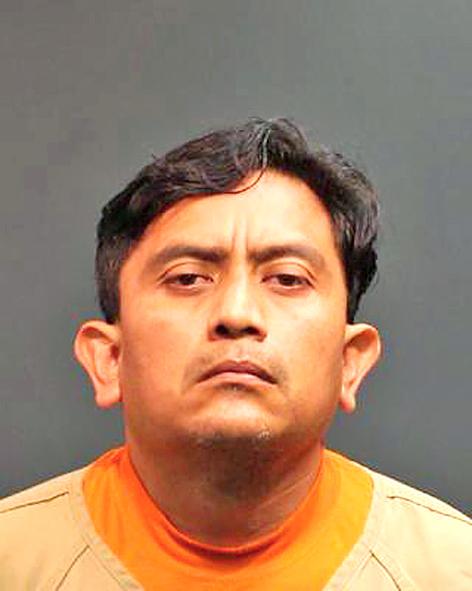 This police booking mug obtained on Wednesday courtesy of the Santa Ana Police Department shows kidnap and sexual assault suspect Isidro Garcia.
Photo: AFP
According to police, Garcia told her that if she tried to contact her family, the police would deport her to Mexico and that he was her only hope. She was locked up at first, but she eventually began to lead what appeared from the outside to be a normal life.
"Even with the opportunity to escape, after years of physical and mental abuse, the victim saw no way out of her situation and lived a life with Garcia under sustained physical and mental abuse," police said in a written statement.
Neighbors were stunned, describing them as a seemingly happy couple who doted on their young daughter and liked to host parties at their apartment in the working-class community of Bell Gardens, about 32km from where she originally disappeared.
"He treats her like a queen. He does his best to do whatever she wants," next-door neighbor Maria Sanchez said in Spanish.
The now 25-year-old woman, whose identity is not being released, first contacted authorities on Monday — the same day Garcia was first arrested.
Police said she came forward to police after finding her sister on Facebook.
Santa Ana police corporal Anthony Bertagna said his department's investigation concluded the following: The girl arrived from Mexico in February 2004 to join her mother and sister in Santa Ana, about 48km southeast of downtown Los Angeles. She had entered the US illegally and spoke no English.
Garcia was her mother's boyfriend. After one fight between the girl's mother and Garcia in August 2004, the girl's mother left the house and the girl went to a nearby park.
Garcia followed the girl. When he caught up with her, she said she had a headache and wanted to go home.
Garcia began threatening the girl and gave her five pills that he said would help her headache but instead knocked her out.
When the girl awoke, she was locked in a garage in Compton, a city between Santa Ana and Los Angeles.
"[The mother] filed a police report and for 10 years [police] did due diligence, but they were changing their names and dates of birth and physical locations so that made it exceedingly difficult," Bertagna said.
In 2007, Garcia got documents from Mexico that gave the girl a new name and date of birth. Using those documents, he married her at a courthouse. He fathered a girl with her in 2012.
Garcia secured two jobs for them on a night cleaning crew so he could keep watch over her. She tried to escape twice but was severely beaten.
Recently, she found her sister on Facebook and they started to communicate. She also learned that her mother had indeed tried to find her, going to a Spanish-language television station and newspaper in 2004.
She started reflecting on her own child's situation and realized she needed to leave, Bertagna said. On Monday, she went to police in Bell Gardens and reported that she was a victim of domestic abuse. She also told them of her abduction.
Police arrested Garcia on Monday during a traffic stop in Bell Gardens. On Tuesday, Santa Ana police arrested him on the kidnapping and other charges, and also interviewed him.
Garcia was expected to be arraigned yesterday.
Comments will be moderated. Keep comments relevant to the article. Remarks containing abusive and obscene language, personal attacks of any kind or promotion will be removed and the user banned. Final decision will be at the discretion of the Taipei Times.