Obama, former presidents honor Civil Rights Act
INJUSTICE REMAINS: As activists and leaders look to the next 50 years, the focus has turned to same-sex marriage, equal pay for women and poverty
US President Barack Obama was two years old when former US president Lyndon Johnson signed the Civil Rights Act and put an end to schools, restaurants and water fountains separated by race.
Half a century later, the first black man to become president is commemorating the accomplishment and recommitting the nation to fighting the deep inequalities that remain.
Obama was due to take the podium yesterday on the third and final day of a 50th anniversary summit that brought together four living presidents, civil rights leaders and cultural icons to the LBJ Presidential Library in Austin, Texas. The celebration comes as Johnson's legacy, four decades removed from the end of the Vietnam War, is being revisited, with his prolific domestic achievements serving as a reminder of how little Washington seems to accomplish today.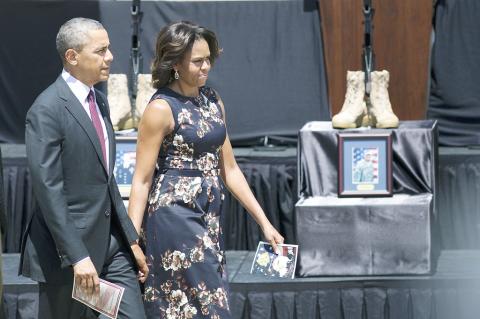 US President Barack Obama, left, and first lady Michelle Obama arrive for a memorial service at Fort Hood in Killeen, Texas, on Wednesday. Last week, US Army Specialist Ivan Lopez killed three people and injured 16 at Fort Hood before taking his own life. The shooting was the second deadly rampage at the base, one of the largest US Army posts in the country, in five years.
Photo: Reuters
For Obama, who was criticized by some African-Americans in his first term for doing too little to help minorities, the commemoration dovetails with a focus on inequality and economic opportunity that has become an early hallmark of Obama's second term, even though the advances Obama has secured are modest. Democrats have seized on the broader theme as their battle cry for the election year.
Lingering injustices in the US notwithstanding, the significance of Obama's participation in yesterday's ceremony was not lost on Democratic Representative John Lewis, who withstood violence and arrest during the civil rights marches through Alabama in the mid-1960s.
"If somebody told me back in 1964 that a man of color would be president of the United States, I would have said: 'You're crazy, you're out of your mind, you don't even know what you're talking about...' When people say to me nothing has changed, that feels like, come and walk in my shoes," Lewis said.
The summit began on Tuesday with remarks from former US president Jimmy Carter, who lamented residual racial inequality and apathy about the problem. Former US president Bill Clinton followed on Wednesday, riffing on immigration and voting rights, while warning that a modern-day reluctance to work together threatened to "put us back in the dustbin of old history."
Obama and first lady Michelle Obama were due to appear at the summit yesterday afternoon. Former US president George W. Bush was to deliver the finale in the evening.
"It's probably the most important moment in the history of the library since LBJ died in 1973," Mark Updegrove, the presidential library's director, said of the 50th anniversary.
As activists and leaders look to the next 50 years, the focus has turned to other areas where they say injustice remains and can be reduced, including equal pay for women, same-sex marriage and poverty — an issue that echoes Johnson's own War on Poverty.
Voting rights have also attracted renewed attention in the wake of a US Supreme Court ruling gutting much of the Voting Rights Act — another part of Johnson's legacy.
The convergence of such historical heavyweights — all the living presidents except former US president George H.W. Bush, who is 89, are attending — underlines a renaissance of sorts for Johnson, whose legacy for decades was stained by the expansion of the Vietnam War under his command.
With time has come a renewed look at what he managed to accomplish on the domestic front, a long list of sweeping reforms that includes Medicare, Medicaid, fair housing and immigration legislation, to name a few.
The aggressive pace of Johnson's legislative victories has offered a contrast to Obama in the years since Republicans seized control of the House of Representatives, two years into Obama's presidency.
Republicans accuse Obama of lacking the enthusiasm to engage with US Congress that marked Johnson's tenure. White House aides and Democrats point to Obama's ambitious healthcare law and argue that institutional changes unrelated to Obama have made governing near impossible.
Comments will be moderated. Keep comments relevant to the article. Remarks containing abusive and obscene language, personal attacks of any kind or promotion will be removed and the user banned. Final decision will be at the discretion of the Taipei Times.