Knife-wielding US student wounds 22
STEALTHY ATTACK: Alex Hribal, described by a classmate as a quiet boy who kept to himself, faces four counts of attempted homicide and 21 counts of aggravated assault
A 16-year-old student wielding two knives went on a stabbing rampage in the hallways of a Pittsburgh-area high school on Wednesday, wounding 22 people before he was tackled by an assistant principal, officials said.
The attacker moved furtively through the halls of Franklin Regional High School in Murrysville, stabbing his victims in the torso, and slashing their arms and faces, students and officials said. Some of the injured taken to nearby hospitals were listed in critical condition.
Alex Hribal, a 16-year-old sophomore, was taken into custody, Murrysville Police Captain Rob Liermann said.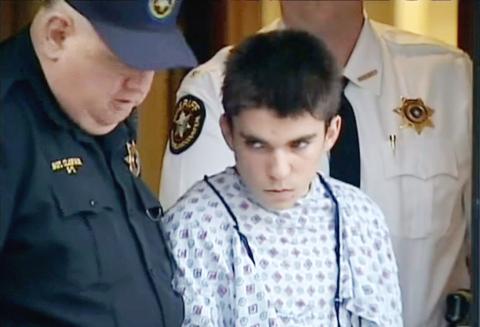 A still image from video footage courtesy of WPXI-TV shows stabbing suspect Alex Hribal dressed in a hospital gown after his arraignment with sheriff's deputies in Export, Pennsylvania, on Wednesday.
Photo: Reuters / WPXI-TV
Charged as an adult, Hribal faces four counts of attempted homicide and 21 counts of aggravated assault, Liermann said, and was ordered to face a preliminary hearing in seven to 10 days.
Students described a scene of panic, with the school hastily evacuated after a fire alarm was pulled.
"He did it so stealthily that at first no one knew what was happening," freshman Josh Frank said. "We heard a girl scream bloody murder. Then two seniors were running down the hall and we followed them out of the school."
The attacker, described by a classmate as a quiet boy who kept to himself, began the stabbings at about 7:13am, walking along the hallways to several classrooms at the school in Murrysville, 32km east of Pittsburgh, officials said.
Assistant Principal Sam King tackled the boy, who was armed with two straight knives about 20 to 25cm long, and an armed security officer handcuffed him with help from King, Murrysville Police Chief Thomas Seefeld said.
Twenty-one students and a security officer were stabbed in the incident, said Dan Stevens, a spokesman for Westmoreland County emergency management.
Two other students suffered minor injuries trying to get out of the school, Stevens added.
He said the teenage suspect was not counted among the wounded.
The suspect was also being treated for injuries to his hands, Seefeld said.
By late afternoon, he said, one or two of the victims were "still pretty critical."
The victims, most of them 14 to 17 years old, were transported to area hospitals, four by medical helicopters. Several had life-threatening injuries, hospital officials said.
Louis Alarcon of the University of Pittsburgh Medical Center operated on a 17-year-old student and said he had "a large injury to his abdominal wall."
The knife "went through his liver, diaphragm and major blood vessels," he said. "Fortunately for this young man, the knife missed his heart and his aorta."
Police and the FBI were searching the suspect's home, situated at the end of a quiet cul de sac.
Neighbors said both parents work and the teen has a brother who also attends Franklin Regional High School.
Pennsylvania Governor Tom Corbett said he had ordered state police to help local law enforcement respond to the incident. The FBI also said it had deployed agents to work with local officials.
The high school was to be closed for two to three days while police conduct an investigation.
Comments will be moderated. Keep comments relevant to the article. Remarks containing abusive and obscene language, personal attacks of any kind or promotion will be removed and the user banned. Final decision will be at the discretion of the Taipei Times.