Jakarta leader fails to spur ballot rout
SLIM PICKINGS: A popular candidate did not generate an impressive turnout for the top opposition party in early returns from Indonesia's massive one-day election
Indonesia's biggest opposition party came out ahead in early election tallies yesterday, but the showing was far less than expected, given the popularity of its pick for president, viewed as the favorite in this summer's presidential race.
The Indonesian Democratic Party of Struggle, or PDI-P, garnered almost 20 percent of the vote, according to early results. The party's popular nominee for the top job, Jakarta Governor Joko Widodo — known affectionately as Jokowi — had created a buzz and led polls ahead of Wednesday's legislative elections.
However, analysts say the presidential race set for July 9 will likely be harder to win, since his party fell short of the 27 percent of the vote it had hoped to win.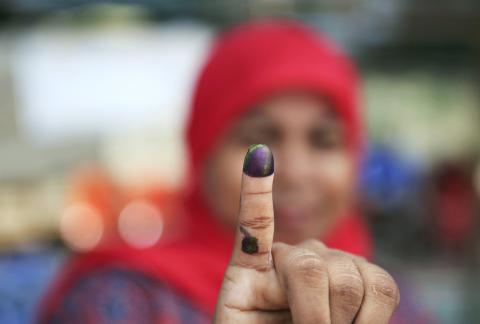 A woman shows her ink-marked finger after voting in the parliamentary elections in Jakarta on Wednesday.
Photo: Reuters
"PDI-P has failed to take advantage of the Jokowi effect in its campaign," executive director of the Jakarta-based Pol-Tracking Institute Hanta Yuda said. He added that the party did not utilize Widodo's popularity enough during national campaigning and through television ads and that it failed to respond to negative comments by opponents.
Preliminary results put the Golkar Party in second place with about 15 percent of the vote, followed by the Great Indonesia Movement Party, or Gerindra, with 12 percent. The two presidential hopefuls from those parties are business tycoon Aburizal Bakrie and former general Prabowo Subianto respectively.
Parties need to secure 20 percent of the seats in Indonesia's House of Representatives or 25 percent of the overall vote to nominate a presidential candidate. Otherwise, a coalition must be formed with one or more parties.
"Thank God, the people have chosen PDI-P as the winner," Widodo said. "I think it's not possible for PDI-P to work alone. We have to cooperate with those having the same platform, and PDI-P is widely open for such a coalition," he said of his party, which has been out of power for a decade.
About 6,600 candidates from 12 parties were competing for 560 seats in the more powerful House of Representatives. About 945 others were vying for places in the nation's Senate and regional representatives. Thousands more were competing for provincial and local councils.
Widodo, a former furniture producer, is a newcomer to national politics, but many support his simple style, humble background and willingness to reach out to the poor. He was leading opinion polls months before being nominated by his party last month.
Official results will be announced next month, but the early counts based on polling organizations are generally considered reliable.
Indonesia, a country of 240 million, is the world's third-largest democracy after India and the US, and the most populous Muslim nation. The 12 main parties are either secular nationalist or moderate based loosely on Islam. A recent survey showed support for Islamic parties had plunged, but the early results revealed that they fared much better than expected.
About 75 percent of voters went to the polls, up from 70 percent in 2009's elections, according to the Center for Strategic and International Studies, a US-based think tank.
Indonesian President Susilo Bambang Yudhoyono is constitutionally barred from seeking a third term. His Democratic Party, which won about 10 percent in the early count, has been in a spate of high-profile corruption scandals.
Some voters said they would still support Widodo, even though the race will likely be harder. Others said the results are likely linked to skepticism about who is really behind the party's campaign.
"People are still afraid that Jokowi is only a puppet of [former Indonesian president] Megawati [Sukarnoputri], who's still eager to hold the power," said accountant Amalia Tahira, 35, referring to the party's current leader. "We need a strong leader who cannot be steered by anyone."
Comments will be moderated. Keep comments relevant to the article. Remarks containing abusive and obscene language, personal attacks of any kind or promotion will be removed and the user banned. Final decision will be at the discretion of the Taipei Times.