Leaders discuss Ukraine as Kiev exits Crimea
AP AND AFP, AMSTERDAM AND KIEV
US President Barack Obama delved into a day of delicate diplomacy yesterday as he sought to rally the international community around efforts to isolate Russia following its incursion into Ukraine.
Hours after arriving in the Netherlands for the Nuclear Security Summit, Obama held one-on-one talks with Chinese President Xi Jinping (習近平).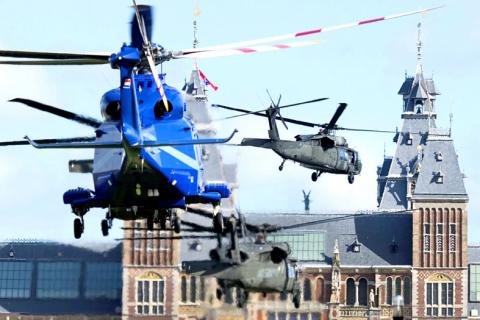 A helicopter squadron carrying US President Barack Obama yesterday advances to land on Museumplein in front of the Rijksmuseum in Amsterdam.
Photo: EPA
Beijing has often sided with Moscow in disputes with the West, but US officials have been appealing to China's well-known opposition to outside interference in other nation's domestic affairs.
Obama treaded carefully in statements with Xi before their meeting, saying only that they planned to discuss the situation in Ukraine.
"I believe ultimately, that by working together, China and the United States can help strengthen international law and respect for the sovereignty of nations and establish the kind of rules internationally that allow all peoples to thrive," Obama said in a subtle appeal for support.
He added that he and Xi would seek to "work through frictions that exist in our relations" on matters like rights and maritime disputes.
Xi pointed to areas of potential cooperation with the US as he settled in for what Obama described as a wide-ranging session.
"It is like a menu, and a rich one at that," Xi said via an interpreter.
The two-day summit in The Hague on nuclear terrorism opened with Japan announcing that it would turn over more than 260kg of weapons-grade plutonium and a supply of highly-enriched uranium to the US, a victory for Obama's bid to secure nuclear materials around the world.
As world leaders gathered in the Netherlands, Kiev ordered its outnumbered troops to withdraw from Crimea. The dramatic but seemingly inevitable announcement came after the fall of another Ukrainian base in the peninsula.
Acting Ukrainian President Oleksandr Turchynov somberly told top lawmakers that both servicemen and their families would now be relocated to the mainland.
"The national security and defense council has reached a decision, under instructions from the defense ministry, to conduct a redeployment of military units stationed in the Autonomous Republic of Crimea," Turchynov said in televised remarks.
Crimea's pro-Kremlin Deputy Premier Rustam Temirgaliyev told the RIA Novosti news agency that "all Ukrainian soldiers have either switched to the Russian side or are leaving the territory of the Crimea."
Comments will be moderated. Keep comments relevant to the article. Remarks containing abusive and obscene language, personal attacks of any kind or promotion will be removed and the user banned. Final decision will be at the discretion of the Taipei Times.