Two new pharaoh statues unveiled in Egypt's Luxor
Archeologists on Sunday unveiled two colossal statues of pharaoh Amenhotep III in Egypt's Luxor, adding to the existing pair that are world-renowned tourist attractions.
The two monoliths in red quartzite were raised at what European and Egyptian archeologists said were their original sites in the funerary temple of the king on the west bank of the Nile River.
The temple is already famous for its 3,400-year-old Colossi of Memnon — twin statues of Amenhotep III, whose reign archeologists say marked the political and cultural zenith of ancient Egypt.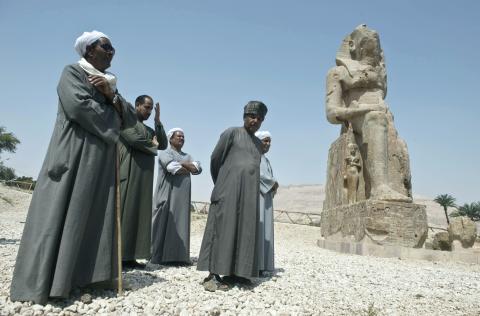 Archeological workers stand next to one of two newly restored statues of pharaoh Amenhotep III in the temple city of Luxor in Egypt on Sunday.
Photo: AFP
"The world until now knew two Memnon colossi, but from today it will know four colossi of Amenhotep III," said German-Armenian archeologist Hourig Sourouzian, who heads the project to conserve the Amenhotep III temple.
"The statues had lain in pieces for centuries in the fields, damaged by destructive forces of nature like earthquake, and later by irrigation water, salt, encroachment and vandalism," she said. "This beautiful temple still has enough for us to study and conserve."
The original two statues both show the pharaoh seated, as does one of the "new" ones, the body of which weighs 250 tonnes and is 11.5m tall, with a base 1.5m high and 3.6m wide.
Archeologists said that with its original double crown, the new statue would have been 13.5m high and weighed 450 tonnes.
The newly unearthed statue depicts the king wearing a royal pleated kilt held at the waist by a large belt and a nearly complete figure of his wife, Tiye, in a wig and a tight-fitting dress at his right leg.
A statue of the queen mother Mutemwya meant to be standing beside his left leg is missing, archeologists said.
The throne itself is decorated on each side with scenes from that era, showing the unification of Upper and Lower Egypt.
The second statue shows Amenhotep III standing and has been installed at the temple's north gate.
The team of archeologists also showed several other ancient pieces of what they said were parts of other statues of the ancient ruler and his relatives, including a well-preserved alabaster head from another Amenhotep III statue.
"This piece is unique, it is rare, because there are not many alabaster statues in the world," Sourouzian said.
The head was shown briefly to some reporters and fellow excavators, and showed the centuries of damage.
Its nose, eyes and ears are intact and some signs of restoration centuries ago are clearly evident, archeologists added. Close to the head lies a statue of princess Iset, Amenhotep III's daughter.
Sourouzian said the aim of her team's work was to preserve the monuments and the temple, which she said had suffered at the hands of "nature and mankind."
"Every ruin, every monument has its right to be treated decently," said Sourouzian, whose dream as a student was to conserve the temple.
"The idea is to stop the dismantling of monuments and keep them at their sites," she said, adding that what was required was steady "international funding" to conserve such world heritage sites.
The work to conserve the Amenhotep III temple is entirely funded through what she said were "private and international donations."
Archeologists say pharaoh Amenhotep III inherited an empire that spanned from the Euphrates to Sudan and that he was able to maintain Egypt's strong position mainly through diplomacy.
Comments will be moderated. Keep comments relevant to the article. Remarks containing abusive and obscene language, personal attacks of any kind or promotion will be removed and the user banned. Final decision will be at the discretion of the Taipei Times.