Grenades rattle Thai city after poll nullified
A string of grenade blasts shook a northern Thai city popular with foreign tourists, leaving several people wounded in attacks police yesterday said could be linked to the kingdom's deadly political crisis.
The explosions in Chiang Mai on Friday evening came hours after the Thai Constitutional Court nullified a general election last month that was disrupted by opposition protests, angering government supporters.
Thai Prime Minister Yingluck Shinawatra's Pheu Thai Party had been expected to win the Feb. 2 polls, which were boycotted by the opposition. The polls were annulled on the grounds that they were not held nationwide on the same day due to the disruption by demonstrators.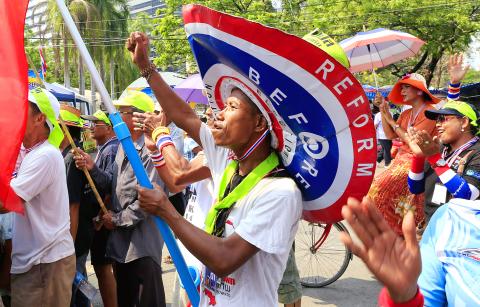 Protesters celebrate a ruling by the Thai Constitutional Court voiding the Feb. 2 general election in Bangkok on Friday.
Photo: EPA
The targets of yesterday's blasts were a restaurant, a gas station and a brewery that has faced criticism because of its controlling family's links to anti-government protesters.
Four people were wounded, but were out of danger yesterday and had returned home, Chiang Mai Provincial Police Commander Grit Gitilue said by telephone.
"We established two possible motives for the attacks: personal conflict or politics. We are giving more weight to the second one," he said.
Two grenades were also fired near an anti-government rally in Chonburi Province on Friday, but nobody was hurt, police said.
The blasts dealt a blow to efforts to lure back tourists after a state of emergency Bangkok was lifted in response to an easing in the months-long unrest that left 23 people dead.
The violence, mostly concentrated in Bangkok, has often targeted opposition protesters seeking to topple the government and install an unelected "people's council" to oversee reforms.
Yingluck has been charged with negligence in connection with a rice subsidy scheme and could face impeachment within weeks.
Her supporters — known as the Red Shirts — have warned they will not tolerate a "judicial coup" to oust the government through the courts.
The movement was due to hold a rally yesterday in Pattaya. Their mass protests against the government in 2010 triggered street clashes and a military crackdown that left more than 90 people dead.
Comments will be moderated. Keep comments relevant to the article. Remarks containing abusive and obscene language, personal attacks of any kind or promotion will be removed and the user banned. Final decision will be at the discretion of the Taipei Times.