S Africans rally to stop 'canned hunting' of lions
Wildlife campaigners on Saturday joined rallies around South Africa in an international push to protect the lion and save the king of beasts from being raised in cages for "canned hunting."
In Cape Town, former South African Anglican archbishop and Nobel peace laureate Desmond Tutu gave his support to the rally with a prayer read by his daughter, Mpho, calling for success in "saving all wildlife, but especially in this instance white lions."
"Save the lion" rallies are set to be held in cities around the world, but the focus is on South Africa, where the hunting of lions raised in captivity is lucrative business.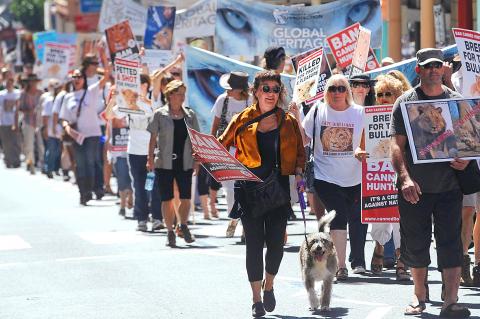 Protestors on Saturday march to the South African Parliament in Cape Town to back demands to have canned hunting banned as part of a global march for lions.
Photo: AFP
Canned hunting involves releasing the lions into a confined area with no escape, and then allowing hunters to take home a lion head or skin as a memento from their kill.
"I don't believe in canned hunting. It shouldn't be hunting for trophies," said Madeleine Goetsch, 54, who joined about 3,000 people at a march in Johannesburg.
"There is a place for regular hunting, but certainly not for near extinct species," she said.
One of the rally organizers, Drew Abrahamson, 43, a conservationist who works in tourism, said that the process of canned hunting starts when cubs are taken away from their mothers to be tamed and allow tourists to pet them.
"Then when they become too dangerous, they enable them to grow, especially the males, and they release the mature males for the hunters," she said. "They can shoot at close range as the lions are tamed."
Hunting for wild animals is a big tourism draw in South Africa, bringing in 1.24 billion rand (US$115 million) in 2012, according to a study.
A foreign hunter pays more than US$3,000 a day for the hunting, which requires a special permit, it said, with part of the fee slated for preservation.
The foreign hunters are mainly rich Americans (55 percent) and Europeans (40 percent), especially Germans, French, Poles, Finns, Austrians and Hungarians.
The business of raising lions in captivity is increasing, according to a memorandum the campaigners presented to the South African government, the EU and CITES, the international convention for the protection of wildlife.
About 60 percent of the lions in South Africa — about 5,000 animals — live in cages to be sold to zoos or released for a few days into the designated area to become the target of hunters.
The caged lions are nearly three times more numerous than lions in the wild, according to the campaigners who are calling for the practice to be ended.
South Africa's association of professional hunters criticized the campaign, saying it was confusing illegal hunts with forms that are legal and responsible and "have a positive impact" on wildlife preservation, it said.
Comments will be moderated. Keep comments relevant to the article. Remarks containing abusive and obscene language, personal attacks of any kind or promotion will be removed and the user banned. Final decision will be at the discretion of the Taipei Times.