FEATURE: Disappointed drinkers craft a revolution in Hong Kong
Rohit Dugar moved to Hong Kong from New York three years ago and quickly realized that he did not like any of the beer there. So he decided to make his own.
He quit his job at Goldman Sachs and late last year opened his own microbrewery, Young Master Ales. In doing so, the 34-year-old from New Delhi and his brewmaster partner, Ulrich Altbauer, joined a growing number of "craft" beer makers — small volume, independent breweries — aiming to save Hong Kong from drowning in a sea of industrial, imported lager.
"We're trying to discover what Hong Kong's brewing culture should be like," Dugar said, pulling beers for a line-up of punters at his stall on an overcast afternoon at Hong Kong's Beertopia craft beer festival — an event that aims to bring local and regional breweries to a wider audience.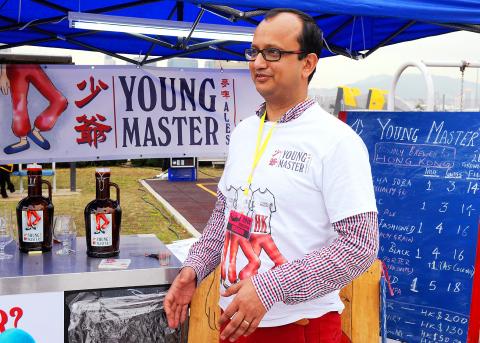 Young Master Ales owner Rohit Dugar discusses his products on Wednesday last week at Beertopia, Hong Kong's International Craft Beer Festival. Dugar opened his microbrewery late last year, joining a growing number of breweries in the territory.
Warning: Excessive consumption of alcohol can damage your health.
Photo: AFP
"We want to do a few classic styles, do them well, earn our stripes as a brewery. As long as we keep doing that the local beer scene will grow," Dugar said. "When people realize that something has potential, things tend to move quickly here in Hong Kong."
Young Master Ales currently produces 15,000 liters per month. Its seven beers range from a 5 percent "Classic" amber pale ale to an 11.5 percent brew aged for six months in a whisky barrel, giving it complex rye, oak and malt notes.
The grain is imported from Germany, while the hops come from Australia, New Zealand and the US. Dugar says he also uses locally produced herbs and spices.
Young Master is among four new brewing operations to start up business in Hong Kong in the past year, with each one aiming to develop world-class beers that speak to their home territory, while an increasing number of bars are dedicating taps usually dominated by mainstream beers to more artisanal brews.
In its third year, the Beertopia event is seen as a barometer for a growing local microbrewing industry that has been spurred on by Hong Kong's elimination in 2008 of duty on wine and beer.
The territory's high-end bars and buzz-worthy restaurants are increasingly paying attention as local beer makers try to convince them to look beyond the big industrial brands.
"Beer doesn't have to be yellow, fizzy and bitter," said Jonathan So, who set up the Beertopia event in 2012. "High-end restaurants are asking themselves that if they are selling high-quality ingredients, why then serve supermarket beer?"
Estimated to make up 4 percent to 5 percent of beer sales globally, craft beer has steadily been gaining traction around the world.
The US leads the way with about 2,700 craft breweries, which have been credited with helping prevent stagnation in its otherwise flat market dominated by giants such as Belgium's Anheuser-Busch InBev, best known for perennial best-seller Budweiser, Britain's SABMiller and Canada's Molson Coors.
In Asia, Japan is home to more than 200 microbreweries, and a scene is growing in South Korea too, while Singapore boasts 12 breweries of its own.
Now momentum in Hong Kong is gathering, with more brewers getting involved.
New Empire Brewery, run by ex-British Navy chef Dan Rybinski and Troy Foo, opened earlier this year.
"We want to be at the center of the craft beer revolution that's happening here," said Rybinski, whose motive for starting his own brewery matches that of Dugar — a lack of decent local beer.
"A lot of people are fed up drinking the same old things and paying what they do for it here. They deserve a high-quality product," he said.
At Beertopia, New Empire was serving two house ales — one a citrus pale ale perfectly suited to Hong Kong's hot summer days, and an American IPA (India Pale Ale) — traditionally a vibrant, hoppy British beer, but this time brewed with US hops.
The biggest challenges for brewers in Hong Kong are high property and operational costs as well as a general lack of space.
"It's not just about high rents," said Dugar, whose brewery is based in an old industrial estate on Hong Kong Island. "It's also about how to fit brewing equipment which tends to be taller than the ceiling heights we have. Floor loading in some older buildings is not suitable. There's a whole host of problems."
Another player is Hong Kong Beer Co, one of the territory's older breweries. First set up in 1995, it closed down before being bought and reopened last year by the founders of Singapore's Brewerkz pub.
"It's amazing how everything has bubbled up in the last year," said Devin Otto Kimble, a Hong Kong Beer Co director.
He says that customers are increasingly quality-conscious and are prepared to pay more for craft beer, whose complex method is reflected in its higher prices.
"You might drink a US$100 bottle of wine so why drink really cheap beer?" he said.
"Beer is 95 percent water, so why ship it halfway around the world? The British always say that you shouldn't take beer any further than a horse can go in a day, and I think that's true," Kimble said.
Comments will be moderated. Keep comments relevant to the article. Remarks containing abusive and obscene language, personal attacks of any kind or promotion will be removed and the user banned. Final decision will be at the discretion of the Taipei Times.