Al-Assad re-election bid 'disgusting': US
'UNDERMINING PROSPECTS': Although the Syrian president has yet to announce his candidacy, a new electoral law has already virtually ensured al-Assad's re-election
The US expressed revulsion on Friday at the prospect of Syrian President Bashar al-Assad running for re-election, three years into a crushing civil war triggered by an uprising against his family's lengthy rule.
"We've been clear that al-Assad has lost all legitimacy to lead his people and any sort of campaign that he might run would be offensive and disgusting, I think, after what he's done to his people over the last many, many months," US Department of State deputy spokeswoman Marie Harf said.
Al-Assad has not announced his candidacy in the presidential election that is now due to be held before July, but he is widely expected to seek another seven-year term.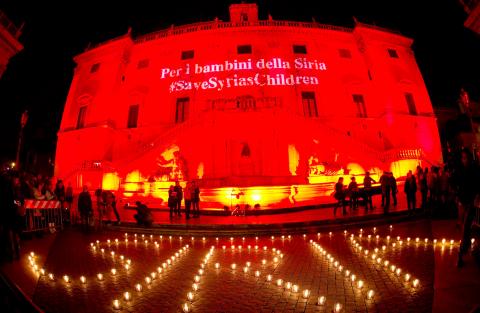 Candles form the word "Syria" as a building is illuminated with a projection reading: "For the children of Syria" during a vigil organized by Save the Children in Rome on Friday.
Photo: EPA
A new electoral law approved by Syrian parliament on Thursday essentially bars many opposition candidates from running, including those in the Istanbul-based National Coalition, virtually ensuring al-Assad's re-election.
Yesterday marked the third anniversary of the revolt which began as peaceful protests calling for democratic change, but has exploded into a civil war after the regime brutally crushed dissent.
Al-Assad has remained in power despite fighting that has killed more than 146,000 people and driven millions from their homes, while rebels have seized large swathes of the country.
The opposition has repeatedly insisted that al-Assad must step down as part of any peace agreement, most recently in two rounds of failed talks earlier this year.
Harf echoed concerns expressed by the UN that a Syrian election would imperil efforts to negotiate an end to the crisis.
"The planning of any national election at this time, I think, would be an affront to the Geneva talks, would only make more clear that the regime is intent on undermining prospects for a political solution," Harf told reporters in Washington.
Complicating the upheaval is the Ukraine crisis.
Russia and the US have been at odds for years over Syria, but with both countries now at loggerheads over Ukraine, Western diplomats fear Moscow is in no mood to further pressure Damascus to bring about a political resolution.
The US Department of State insisted it would work through such disagreements to "move the diplomatic process forward" in Syria.
"Certainly we still have some disagreements with the Russians on Syria, that's not a secret. But that doesn't mean that we shouldn't try to work with them on it," Harf said.
Meanwhile a bipartisan group of nine US senators wrote to US President Barack Obama on Friday urging him to show stronger leadership on Syria and to consider fresh options — including sending arms to the vetted opposition — beyond humanitarian aid.
"Events on the ground are proving that this is not enough," wrote the lawmakers, led by US Senate Foreign Relations Committee Chairman Robert Menendez.
"We must be prepared with options to increase pressure when [al-]Assad fails to meet his commitments," they wrote.
Comments will be moderated. Keep comments relevant to the article. Remarks containing abusive and obscene language, personal attacks of any kind or promotion will be removed and the user banned. Final decision will be at the discretion of the Taipei Times.