Britain reburies soldiers lost in the 'Great War'
Scotsman William McAleer had been in France barely two months when, just before sunrise on Sept. 25, 1915, he was among thousands of other troops who launched the British army's largest attack so far of World War I.
By the next day, the 22-year-old private from a seaside town in Fife was dead. Almost 60,000 British troops died in the Battle of Loos and a third disappeared with no known grave.
McAleer was one of them, until nearly a century later, when workers building a new prison turned up his remains in a common grave.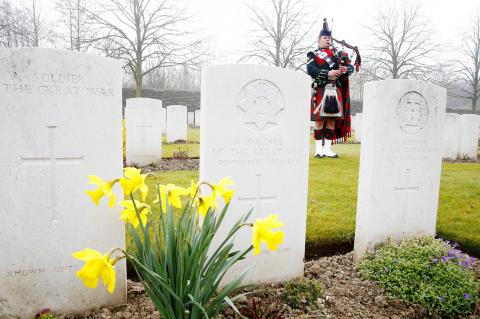 Corporal Stuart Gillies of the 2nd Battalion of the Royal Regiment of Scotland plays the bagpipes among tombstones at a World War I memorial during a reburial ceremony at the Loos-en-Gohelle Commonwealth war cemetery near Lens in northern France on Friday.
Photo: Reuters
On Friday, McAleer and 19 other still unidentified British soldiers were reburied with full military honors in a ceremony in this sleepy northern French village, close to where they fell in battle. The ceremony was a reminder of the horrors of a war that devastated this continent 100 years ago — and as a reminder of why many Europeans today are so wary of seeing a new conflict on their eastern flank in Ukraine.
World War I remains still turn up regularly, during construction projects or in the spring planting season. More than 700,000 soldiers killed in the Great War were never found, their remains now part of the earth along the 600km-long route of the Western Front.
In January a nearly complete skeleton of an unidentified French soldier was unearthed at the Memorial of Verdun, where construction is underway on renovations to mark the centenary of the war.
In May last year, the remains of 26 French soldiers were found in Fleury-devant-Douaumont, one of France's "ghost villages" that were entirely destroyed by the war. And in 2012, another French soldier's remains turned up during construction of a canal that stretches 100km along the old Western Front.
What makes McAleer's case especially notable is that unlike most of these other cases, investigators were able to reach back through history and give him a name, a history and now, a proper grave.
In October 2010, workers building a new prison a few kilometers east of Loos-en-Gohelle turned up the remains that would eventually be identified as McAleer's. They were found along with 19 other British and 30 German soldiers, carefully laid out in a common grave that investigators determined was dug by the German side, based on where the front line had then run.
McAleer was identified by investigators working for the Commonwealth War Graves Commission thanks to an ID tag found with his remains. Efforts to identify the others were unsuccessful, although investigators were able to trace half of them to a specific regiment. Their graves, like the majority of the graves in Loos' British cemetery, will bear the epitaph "Known Unto God."
Members of the Royal Regiment of Scotland's 2nd Battalion, the modern-day descendants of McAleer's Royal Scottish Fusiliers, were on hand on Friday to honor their fallen comrades. Representatives of regiments for the other 10 soldiers whose regiments could be traced also participated.
Julian Blake, a graves commission officer based in Beaurains near Loos, was in charge the day McAleer's remains were found.
"It appeared to be a field burial carried out by the Germans, the way the bodies were laid out, not just fallen and buried by chance,'' Blake said.
The German remains were handed over to VDK, the German war graves commission, which is working to identify them.
Blake worked on about 80 exhumations when he was the grave commission's exhumations supervisor in France from 2007 to 2011 and most involved only a few remains. Finds on the scale of the Vendin-le-Viel discovery "are very rare," Blake said.
Identifying a soldier is also exceptional. Sometimes shoulder badges with regimental identification are found still pressed against a dead soldier's shoulder bone, Blake said. When badges or tags cannot be found, anthropologists are sometimes called in to examine the bones. DNA testing is impractical except in very rare cases, Blake said.
In McAleer's case Blake had a full skeleton, regimental badge and ID tag, although the badge was in bad condition and difficult to decipher. It took Blake and his team about a month to identify the remains.
"You can't describe the feeling of finding the casualty and seeing the headstone, and saying: 'I think I made a difference,'" said Carl Liversage, another Commonwealth War Graves Commission official based in France.
Comments will be moderated. Keep comments relevant to the article. Remarks containing abusive and obscene language, personal attacks of any kind or promotion will be removed and the user banned. Final decision will be at the discretion of the Taipei Times.