Detained China activist dies after critical illnesses
A Chinese human rights activist died on Friday after falling critically ill in detention after Chinese police denied her medical treatment for months, her brother said.
London-based rights group Amnesty International condemned Chinese authorities over the death of Cao Shunli (曹順利), 52, saying they had "blood on their hands."
"Her body was weak, she was sent to the hospital too late," Cao's brother Cao Yunli (曹雲立) said. "The police are responsible."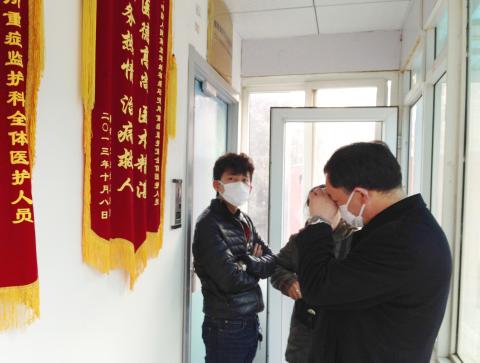 Friends of rights activist Cao Shunli stand in front of an intensive care unit in a Beijing hospital on March 1 where she was being detained, as they are not allowed to go inside.
Photo: Reuters
Cao was set to travel to Switzerland to take part in a UN Human Rights Council review in September last year, but police detained her at Beijing's international airport, her lawyer Wang Yu (王宇) said.
She became ill in November last year, but police denied her access to medical treatment for more than three months, sending her to hospital only when she fell unconscious after suffering organ failure late last month, Wang said.
The UN's human rights office on Friday called for a full review into Cao's detention.
"We are deeply concerned that a human rights defender was detained in relation to her work and engagement with United Nations human rights mechanisms," Spokesperson for the UN High Commissioner for Human Rights Ravina Shamdasani said.
"We urge a full review of the handling of her detention and treatment, and that her family be given every opportunity to seek redress," she added.
Cao had engaged in peaceful activism for several years, according to reports.
She had also joined a rare protest outside China's foreign ministry in June last year to demand greater participation in the UN's review of human rights in China, according to Amnesty and other rights groups.
China's ruling party maintains a close grip on power, and new leaders who took over in late 2012 have detained dozens of dissidents and tightened control over the Internet, as well as social media, a growing forum for public discourse.
"Cao Shunli's death exposes just how callous and calculating the Chinese authorities are prepared to be to silence critics. The authorities today have blood on their hands," Amnesty China researcher Anu Kultalahti said.
Cao suffered from tuberculosis in both her lungs, cirrhosis of the liver and uterine fibroids, the rights group said.
Beijing-based dissident Hu Jia (胡佳) said on his Twitter account: "The Communist Party should take full responsibility for her death." Beijing police were not immediately available for comment on Cao's case.
China won a seat on the UN Human Rights Council in November last year along with Russia, Saudi Arabia and Cuba, despite fierce international criticism of the country's rights records.
European countries and the US regularly condemn China on human rights, citing cases including its jailing of dissidents.
Beijing argues that its citizens enjoy increasing freedoms thanks to decades of rising prosperity.
Comments will be moderated. Keep comments relevant to the article. Remarks containing abusive and obscene language, personal attacks of any kind or promotion will be removed and the user banned. Final decision will be at the discretion of the Taipei Times.