Thailand encouraged not to deport rescued Uighurs
Thailand said yesterday it suspected a group of 200 people recently rescued from a human trafficking camp were ethnic Uighur Muslims, as calls mounted from the international community to protect the group and ensure they are not forced back to China.
Thai police discovered the group, which included 78 men, 60 women and 82 children, on Wednesday last week at a secluded jungle camp behind rubber plantations in Thailand's southern Songkhla Province.
"From what we see, they are likely Uighurs, but we cannot confirm that until the identification process is completed," Thailand's immigration police chief Lieutenant General Panu Kerdlarppol said.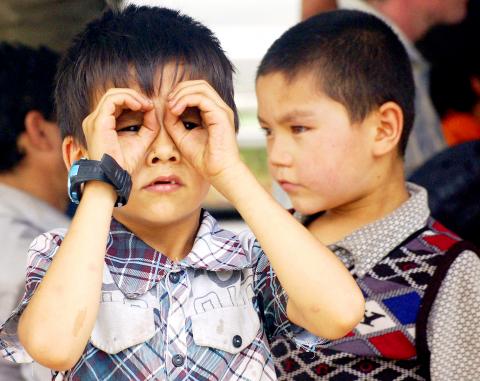 Children believed to be Uighurs from China gather yesterday after being detained by Thailand's Immigration Police Office in the Thai-Malaysian border province of Songkhla, southern Thailand.
Photo: EPA
Thai authorities initially said they believed the group was Turkish, because they claimed to be from Turkey. Chinese and Turkish diplomats have visited the people, who so far have refused to speak with the Chinese official, Panu said.
"After we know the nationalities, we will press charges against them on illegal entry and push for deportation," Panu said.
The Turkik-speaking Muslim Uighurs originate from China's western region of Xinjiang, home to a simmering insurgency by indigenous Uighurs against what they see as discrimination and religious suppression by China's majority Han people.
The Thai government has responded with a crackdown on what it calls terrorism incited by separatists who are influenced by radical Islam. Last year, clashes between authorities and members of the minority group left scores dead, including 40 police officers.
The US Department of State urged Thailand to protect the group, which it identified as Uighurs.
"We are concerned about Uighurs generally [and] welcome reports that these Uighurs were rescued," US Department of State spokeswoman Marie Harf told reporters on Friday in Washington, without directly addressing the possibility of the group's repatriation to China.
"We're encouraging Thailand to make sure their humanitarian needs are met," she said.
New York-based Human Rights Watch called on Thai authorities to ensure the group is not forced to return to China, which has intensified a crackdown on the ethnic minority.
"Thai authorities should realize that Uighurs forced back to China disappear into a black hole," Brad Adams, Asia director at Human Rights Watch, said in a statement, adding that Uighurs forcibly returned to China face credible threats of torture.
Thailand has long been a transit point and hub for human traffickers, mostly transporting ethnic Rohingya fleeing violence and persecution in neighboring Myanmar.
More than 800 Rohingya, another Muslim minority, were found in Songkhla in January last year after they fled violence in Myanmar that has killed hundreds and displaced about 100,000 more.
Comments will be moderated. Keep comments relevant to the article. Remarks containing abusive and obscene language, personal attacks of any kind or promotion will be removed and the user banned. Final decision will be at the discretion of the Taipei Times.