Spain's bombing survivors struggle decade after attacks
Ten years after living through the horror of the Madrid train bombings, which she blames for a miscarriage, Adeniria Moreira says she thinks of her unborn baby every day and struggles to leave her home.
She had just boarded a train at El Pozo, the hardest-hit of the four Madrid rail stations struck by backpack bombs filled with dynamite and shrapnel, when it was ripped apart by an explosion.
"There were body parts everywhere, an arm over here, a head over there," said Moreira, 48, who wore a scarf tied tightly around her neck as she sat in the living room of her well-kept apartment in Vallecas, a working-class neighborhood in southern Madrid. "There were people with blood coming out of their noses, out of their mouths. There were people without any clothes, who had no shoes."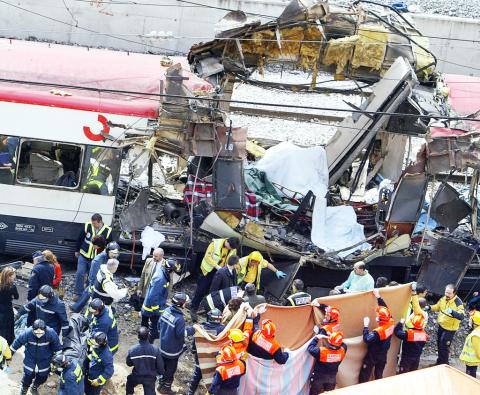 Bodies of victims are removed after Islamic militants bombed a train near the Atocha train station in Madrid, Spain, on March 11, 2004.
Photo: AFP
The early morning blasts on March 11, 2004 — claimed by militants who said they had acted on al-Qaeda's behalf over Spain's role in the US-led invasion of Iraq — killed 191 people and injured 1,800 more.
A decade on, many survivors like Moreira continue to struggle with the psychological trauma of their ordeal.
"I can go weeks and weeks without leaving home," said Moreira, a nurse's aid by training who moved to Spain from Brazil 16 years ago.
She was diagnosed with post-traumatic stress disorder after the attacks and now takes pills for anxiety and depression.
"I can't walk between two parked cars, I'm afraid that there is a bomb inside and there will be an explosion," she said.
Moreira, who was three months pregnant at the time, was not injured in the bombing and doctors gave her the all clear at the time.
However, three weeks later, she felt contractions and went to a hospital where she learned that her fetus had died.
"I was in a state of shock. My husband took it really badly, he cried, cried, cried. I was hospitalized for three days. It was very hard," said Moreira, who believes the emotional upset of the bombings caused her pregnancy to end. "I think of the baby I lost every day."
Since then, she has been interned in a psychiatric hospital five times and has struggled to hold down a job.
Moreira's husband, who works as a bus driver, helps her raise their 11-year-old daughter. Their eldest daughter, who is 26, now lives in Brazil.
Eloy Moran, who lost vision in his left eye and hearing in both ears in the attacks, also had to stop working after the bombings.
He suffered serious head injuries when an explosion struck the train he was on just before it reached Madrid's Atocha station, leaving the tracks strewn with bodies.
"I felt unbearable pressure in my head, like it was going to explode like a balloon," said Moran, 65, who wore a plaid cap and black coat as he sat by a statue in memory of the bombing victims outside the station at Alcala de Henares where he boarded the train.
He spent two weeks in hospital and when he returned to work as an office administrator at the Ministry of the Interior he found he could not concentrate for long and had difficulty sleeping.
After two years, he reluctantly admitted that he could no longer work and accepted early retirement.
"It was really upsetting. I really liked my job. I felt like I had worked so hard to get where I was and it all went to the garbage," he said.
"I fell into a deep depression that I could not get out of," added Moran, who said he took pills for anxiety for years after the attacks and has never again boarded a commuter train.
Spanish courts convicted 18 people over the bombings, with two top suspects each sentenced to nearly 43,000 years. Seven of the chief suspects killed themselves weeks after the attack as police closed in.
Comments will be moderated. Keep comments relevant to the article. Remarks containing abusive and obscene language, personal attacks of any kind or promotion will be removed and the user banned. Final decision will be at the discretion of the Taipei Times.