Saudi Arabia and Qatar in 'war on Iraq': al-Maliki
'DIABOLICAL, TREACHEROUS': The Iraqi prime minister accused the countries of providing political, financial and media support to militants, as well as arming them
Saudi Arabia and Qatar are supporting militant groups in Iraq and have effectively declared war on the country, Iraqi Prime Minister Nuri al-Maliki said as nationwide violence left 15 dead on Saturday.
The rare direct attack on the Sunni Gulf powers, with al-Maliki also accusing Riyadh of supporting global terrorism, comes with Iraq embroiled in its worst prolonged period of bloodshed since 2008, with more than 1,800 people killed already this year, ahead of parliamentary elections due next month.
The bloodletting in Iraq, which shares a long border with Saudi Arabia, has been driven principally by widespread discontent among the country's Sunni Arab minority and by the civil war in neighboring Syria.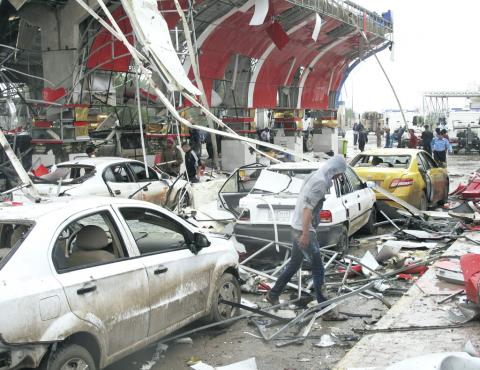 A youth walks past the site of a bomb attack in Hilla, Iraq, yesterday.
Photo: Reuters
Al-Maliki, a Shiite, has in the past blamed unnamed regional countries and neighbors for destabilizing Iraq.
However, in an interview with France 24 broadcast on Saturday, the Iraqi prime minister said allegations he was marginalizing Sunnis were being pushed by "sectarians with ties to foreign agendas, with Saudi and Qatari incitement."
"They are attacking Iraq, through Syria and in a direct way, and they announced war on Iraq, as they announced it on Syria, and unfortunately it is on a sectarian and political basis," he said. "These two countries are primarily responsible for the sectarian and terrorist and security crisis of Iraq."
Saudi Arabia and Qatar have emerged as regional rivals because, while both have provided support to fighters opposed to embattled Syrian President Bashar al-Assad, the two countries have also sparred in recent weeks over Doha's support for the Muslim Brotherhood of deposed Egyptian president Mohamed Morsi.
Saudi Arabia, along with Bahrain and the United Arab Emirates, withdrew its ambassador to Qatar this month.
Baghdad has long complained that support for militant groups fighting in Syria's civil war finds its way through to Iraq, with weapons in particular ending up in the hands of jihadists.
Al-Maliki said in the interview that Riyadh and Doha were providing political, financial and media support to militant groups and accused them of "buying weapons for the benefit of these terrorist organizations."
In the interview, al-Maliki also accused Saudi Arabia of supporting global terrorism, both inside the Arab world and in other countries.
He slammed "the dangerous Saudi stance" of supporting "terrorism in the world — it supports it in Syria and Iraq and Lebanon and Egypt and Libya and even in countries outside" the Arab world.
Al-Maliki in January blamed "diabolical" and "treacherous" Arab countries, but has consistently refused to point directly at particular states.
However, as violence has worsened markedly in Iraq — the death toll from attacks and clashes last month was more than triple that of February last year — and with elections due on April 30, al-Maliki has taken a hard line, pushing security operations against militants.
He has also called for greater coordination against militancy, with Baghdad due to host an international counter-terrorism conference on Wednesday.
On Saturday, violence nationwide killed at least 15 people, including a parliamentary election candidate — the second murdered this year — and four children, security and medical sources said.
A suicide bomber yesterday detonated a minibus rigged with explosives at a crowded checkpoint south of Baghdad, killing 34 people, security and medical officials said. Among the fatalities from the bombing at the northern entrance to the city of Hilla were five policemen, two women and five children, according to a police captain and medical sources.
A further 167 people were wounded, the sources said
The suicide bomber detonated an explosives-rigged minibus during morning rush hour at a checkpoint at the northern entrance to Hilla, the mostly Shiite capital of Babil Province south of Baghdad.
"I saw a huge fire that covered the entire checkpoint and many cars nearby," Salam Ali, who suffered wounds to his chest and one of his hands, said from his bed in a Hilla hospital.
"Many victims could not get out of their cars because the pressure of the explosion fused the doors shut," he said.
Comments will be moderated. Keep comments relevant to the article. Remarks containing abusive and obscene language, personal attacks of any kind or promotion will be removed and the user banned. Final decision will be at the discretion of the Taipei Times.