Chinese fearful about missing Malaysian flight
Chinese social media yesterday filled with messages of sympathy for the missing on Malaysia Airlines flight MH370, with almost two-thirds of those on board from China, in what would be the country's second-worst air disaster.
Meanwhile, a Malaysia Airlines official, defended the company against criticism that its response had been sluggish and opaque, saying it had brought in a team of nearly 100 people and that relatives would be flown to Malaysia.
More than 24 hours after the airplane vanished from radar screens, the disappearance was the top topic on Sina Weibo, a Chinese microblogging site.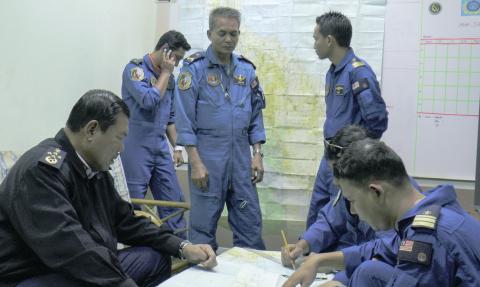 Coast guard personnel coordinate search and rescue operations for a missing Malaysian Airlines flight off the coast of Malaysia yesterday in this handout from the Malaysian Maritime Enforcement Agency.
Photo: EPA
According to the airline, 153 Chinese citizens were among the passengers on the flight, which was a codeshare with China Southern Airlines.
If the loss of the aircraft is confirmed, it would be the worst global air disaster since 2001.
A widely circulated post on China's hugely popular messaging app WeChat read: "MH370, we hope the radar can see you. If you copy, keep flying at your current height until you reach your destination."
"We'll clear the way for you. Everybody is more than happy to let you be the first to land," the post said.
The sky is clear, with temperature in Beijing at 5?C, a little bit cold. Please wear your coats to keep warm," it added.
"Remember to hug your family and friends after you disembark. They love you, they really do," the post said.
Some Chinese social media users speculated that the plane could have been hijacked, noting that the incident came a week after a brutal knife attack Kunming that both Beijing and Washington have described as an act of terror.
"What on earth is happening to China in 2014?" one Sina Weibo user wrote. "First there's the Kunming incident, then a disappearing aircraft. Was it directed at Chinese people? I'm beginning to think more and more that this is terrorism."
The Chinese passengers included a group of artists who had taken part in a painting and calligraphy exhibition in Kuala Lumpur, reports say.
At a hotel in Beijing, friends and relatives of those on board waited for news, many of them looking tired and worried.
The airline's commercial director, Hugh Dunleavy, said it was offering to take relatives to Malaysia if they wanted to be closer to the search-and-rescue operations.
Several family members awaiting news at the Beijing hotel criticized the airline's handling of the disappearance and a lack of information.
A middle-aged woman, who gave her surname as Nan, held back tears as a pack of reporters surrounded her.
Her husband's brother was on the flight, returning from a business trip, and she took a train to Beijing from Shanghai after she found out on Saturday afternoon.
"The airline company didn't contact me, it was a friend," she said. "I can't understand the airline company. They should have contacted the families first thing."
"I don't have any news. I'm very worried, my family member was there," she added.
Dunleavy defended Malaysia Airlines, noting that the company had dispatched a team of 92 counselors and staff to help and that "we came here as soon as we could."
"Even as we speak now, we have not been able to locate the aircraft, so you can imagine four or five hours into the event you are much less certain of the information," Dunleavy said.
Comments will be moderated. Keep comments relevant to the article. Remarks containing abusive and obscene language, personal attacks of any kind or promotion will be removed and the user banned. Final decision will be at the discretion of the Taipei Times.