FEATURE: India set to open museum dedicated to film industry
Seven years in the making and costing nearly US$20 million, the first Indian film museum is set to open in the home of Bollywood, more than 100 years after the country's celebrated movie industry was born.
The Indian government-funded National Museum of Indian Cinema, set in an elegant 19th century heritage bungalow in south Mumbai, traces Indian cinema's history from the black-and-white silent era to its modern musical blockbusters.
"It's about time India had its own film museum. We have archives, but not a museum and today a museum can become vibrant because of technology and interactivity," museum curator Amrit Gangar said as he gave a preview tour.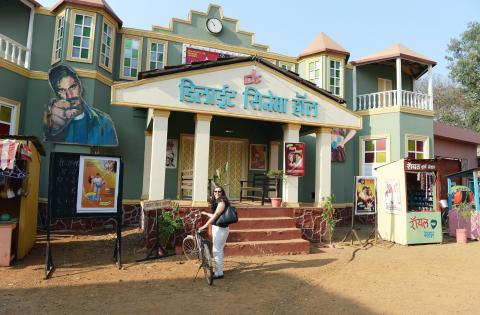 German visitor Nadine Piolot tours a film set at Film City in Mumbai, India, on Feb. 5.
Photo: AFP
Spread across two floors of the 560m2 building, the museum showcases original artefacts, memorabilia, recordings and filmmaking tools. Visitors can see an original painted poster for the 1957 epic Mother India and listen to songs by K.L. Saigal, considered the first superstar of Hindi film.
The idea is to celebrate not just Hindi-language Bollywood, but also the films made in the various regions and languages across India, a country that produces nearly 1,500 movies a year.
"All the filmmaking centers of India have been represented," said Anil Kumar, head of marketing at the government's Films Division, who said the museum was ready and is to open within the next few weeks.
The curators of the project were faced with big gaps in the country's rich cinema heritage — many of India's early films, for example, were not preserved.
The last remaining print of India's first "talkie," the 1931 film Alam Ara (The Light of the World), was destroyed in a fire in 2003.
"Many things have been lost. We have only 1 percent of early silent films left. Therefore this is not a museum of collections, but a museum of information, interaction and education through a sensory experience," Gangar said.
Procuring original memorabilia was also a challenge for the museum, its creators said.
"We didn't get much, but we got a few things through donations and purchases. Many things have previously been amassed by private collectors," Kumar said. "This museum will be more educational."
Via a touch screen panel, visitors can watch clips from the few remaining silent films such as Prem Sanyas (The Light of Asia, 1925) and Prapancha Pash (Throw of Dice, 1929). Among the moving pictures featured is Raja Harishchandra, the first all-Indian feature film brought to the silver screen in Mumbai on May 3, 1913.
A tale from the Hindu epic book Mahabharata, the film quickly became a hit despite its female characters being played by men at a time when women acting was widely frowned upon.
Kumar said a visit to the museum would take visitors "through the journey of Indian cinema, from pre-cinema to the silent era to talkies to songs, the studio system, new wave and digital."
Unlike Hollywood, a place in Los Angeles, the term Bollywood is a nickname for the Hindi-language film industry that is largely centered in Mumbai.
Much of the studio action now happens in a "Film City" complex in the city's north — or in picturesque foreign locations — while old heritage gems, such as the once-famed Bombay Talkies studio, have been left to deteriorate in recent decades.
A few projects have sprung up celebrating the city's movie history in recent years. In 2012 a "Walk of the Stars" was set up on a seaside promenade in the style of Hollywood's Walk of Fame, with handprints and signatures of various leading actors.
Ahead of the industry's centenary last year, a Mumbai artist also began painting giant murals of classic film posters on the walls of the street.
It seems authorities may now also be recognizing the potential for Bollywood to bring in tourism revenue — not only through the museum, but also through movie-themed tours of the city.
Comments will be moderated. Keep comments relevant to the article. Remarks containing abusive and obscene language, personal attacks of any kind or promotion will be removed and the user banned. Final decision will be at the discretion of the Taipei Times.