Questions over recovery of China's lost treasures
PATRIOTISM? Plundered art is especially political in China, where the CCP harps on looting by foreigners even though it has destroyed a huge amount of relics
China has long sought to recover treasures it says were looted by foreigners, but a tycoon's US$1.6 million deal for the return of seven white marble columns from Norway is raising unusual debate on the issue.
Critics have openly challenged the motives of real-estate developer Huang Nubo (黃怒波), whose donation to the KODE Art Museums of Bergen paved the way for the return of the Old Summer Palace relics, and some argued they should not be "bought back."
"They robbed us and then returned the marbles to us — I can't work out if I'm happy or not," Beijing student Guo Peida said at the ruins of the palace in Beijing, looted by invading Anglo-French forces in 1860.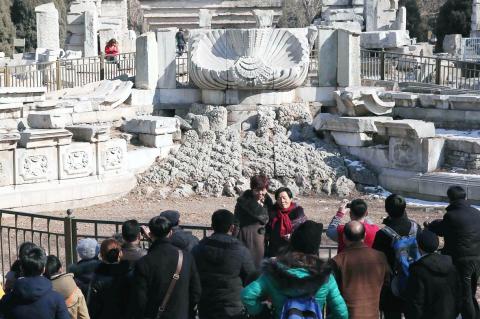 Two visitors, center, pose for a photograph before the relics of Haiyantang Zodiac fountain in the Old Summer Palace in Beijing on Wednesday.
Photo: AFP
Plundered or acquired art is a worldwide issue, with the Egyptian Rosetta Stone, the Elgin Marbles taken from the Parthenon in Greece to Britain 200 years ago and Nigeria's Benin Bronzes just a few examples.
The subject is especially political in China, where the Chinese Communist Party (CCP) consistently seeks to bolster its legitimacy by reminding citizens of the "century of national humiliation" the country suffered at the hands of foreign powers from the mid-19th-century.
"The rhetoric has sometimes been more heated and its claims more nationalist in their justification" in China, said James Cuno, president and chief executive of the J. Paul Getty Trust, whose Getty Museum has a stunning collection of antiquities from around the world.
Chinese authorities and collectors have been actively buying up works considered of national importance, said Cuno, author of Who Owns Antiquity?
"There have also been a number of high-profile restitution cases," he said. "There is every indication that this will only increase as Chinese nationalism and economic development continue to rise."
However, while China's leaders cast themselves as righteous guardians of the country's cultural patrimony, critics point out that vast numbers of relics, buildings and examples of heritage have been destroyed at the hands of the communist authorities, in both the chaos of the 1966-1976 Cultural Revolution and the tide of construction and urbanization that has swept the country in recent years.
Mao Zedong's (毛澤東) upheaval included a campaign against the "Four Olds" — "old customs, old culture, old habits and old ideas" — and in an online debate on the columns, a commenter named Pei Shi wrote: "Actually, most of China's domestic relics were wrecked in the wave of unprecedented looting and destruction that took place ... during the Cultural Revolution."
Author Jasper Becker has also described China's campaign to blame foreigners for the loss of its cultural heritage as drawing "the astonishment of many familiar with its past record."
No one knows exactly how many treasures China lost or sold to outsiders over the years, although some estimates put them in the tens of thousands.
Among them are a vast numbers of manuscripts from Dunhuang, where Hungarian-British archeologist Aurel Stein and subsequent foreign adventurers paid to remove ancient texts from a cave in the early 20th-century.
Relics from the Old Summer Palace are particularly emotive, with the most hotly pursued items a collection of 12 bronze animal heads that formed a Chinese zodiac water clock in the imperial garden.
Five of the heads are still missing, while seven have been recovered by China, four of them on display at the Poly Art Museum, run by the state-owned China Poly Group.
Two were returned last year by Francois Pinault, the owner of Christie's auction house — which soon afterward was granted a licence to operate independently in China.
The French billionaire only agreed to give them back after a Chinese collector sabotaged their auction in 2009 by successfully bidding US$40 million and then refusing to pay, which he called a "patriotic act."
Huang and the Norwegian museum have agreed to send the marble plinths to Peking University, the businessman's alma mater, rather than the former palace.
However, Liu Yang (劉陽), of the Yuanmingyuan Society of China, said the two places were "completely different" and questioned whether Huang was "really acting out of patriotism."
According to some, the wider issue is a marker for Beijing's changing geopolitical clout.
Yao Le (姚樂), of the Jiangsu Provincial Academy of Social Science, wrote in the state-run Global Times newspaper that keeping the Old Summer Palace site in "wrecked" condition rather than restoring it ensured it remained "better at stirring feelings of national humiliation and patriotism."
"The recovery of relics should be a state action, which ought to be achieved by justice without paying for them," he said. "Only when China becomes powerful enough that all the countries that took our relics have a favor to ask at the cost of returning our relics will we really be able to be satisfied and shamelessly celebrate."
Comments will be moderated. Keep comments relevant to the article. Remarks containing abusive and obscene language, personal attacks of any kind or promotion will be removed and the user banned. Final decision will be at the discretion of the Taipei Times.