Pandas fly into Belgian political feud
A red carpet welcome awaited two distinguished Chinese visitors to Belgium yesterday. Arriving at Brussels airport in a chartered Boeing 747, the couple and their entourage were to be met on the tarmac by Belgian Prime Minister, Elio Di Rupo, before being whisked to their new home: a zoo.
The two — male panda Xing Hui (星輝) and female Hao Hao (好好) — are already celebrities in China.
They have their own Twitter feed and Hao Hao was China's favorite panda at the international Giant Panda Zoo Awards last year.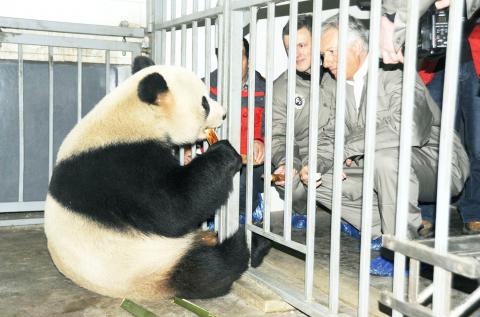 Eric Domb, right, founder of Pairi Daiza Zoo in Brugelette, and Belgian Ambassador to China Michel Malherbe, second right, feed giant panda Xing Hui at the China Conservation and Research Center for Giant Pandas in Dujiangyan, Sichuan Province, on Saturday.
Photo: Reuters
However, their imminent arrival in Belgium has prompted an outbreak of political infighting, with Flanders grumbling that the country's oldest and most well-known zoo, in Antwerp, was deliberately snubbed by the French-speaking Di Rupo when he helped broker the deal to bring the pandas to Belgium.
The pandas will stay in the Pairi Daiza animal park near Mons, which happens to be the city where Di Rupo is still mayor.
However, Antwerp Zoo, founded in 1843 — just 13 years after Belgium's independence — insists its pedigree and prestige should have made it the first choice.
A zoo spokesman said it was better equipped to host the two four-year-olds, having accommodated two other pandas in 1987.
"All in all we are rather surprised that the prime minister did not think of us," a zoo spokesman said.
Zuhal Demir, an MP with the Flemish separatist N-VA party, has accused the prime minister of blatant favoritism.
"Di Rupo made a political choice," Demir said. "He was not acting as prime minister of all Belgians."
However, Pairi Daiza founder and owner Eric Domb insists the zoo was scrupulous in its application for the pandas.
"The pandas are Chinese, not Walloon or Flemish," he said.
Pairi Daiza is Belgium's most popular zoo, with 1.25 million visitors last year.
Antwerp Zoo saw visitor numbers stagnate at 840,000.
Comments will be moderated. Keep comments relevant to the article. Remarks containing abusive and obscene language, personal attacks of any kind or promotion will be removed and the user banned. Final decision will be at the discretion of the Taipei Times.